Heading into Christmas, Superhero is giving away up to $1,000 worth of an Aussie ETF or fund to our customers every trading day for 12 consecutive days.
Here's how to win
Every time you buy or sell a share or ETF between 1-16 December you will automatically be entered into our daily draw. The more you trade, the more entries you will receive.
A winner will be drawn at random each morning based on the previous day's trade. For example, if you were trading on Wednesday, you could be crowned a winner on Thursday.
All winners will be contacted via email and announced on our Instagram so make sure to follow us there.
$10,000 worth of prizes
ETFs are a great low-cost way to invest in the themes and companies that you're passionate about. That's why we're giving lucky customers 12 different ETFs to help build out their portfolio.
The prizes could give you exposure to crypto, the booming cybersecurity industry or emerging energy technologies. They could cover robotics, or some of the most cutting-edge biotech companies on the market. With each trade you will be in the running to fill your Christmas stocking with a shiny new ETF – the kind of gift that could keep on giving.
All winners will receive their prize in their Superhero trading account within 2 business days of the end of the Competition Period. See the full list of ETFs up for grabs below and good luck to all our investors.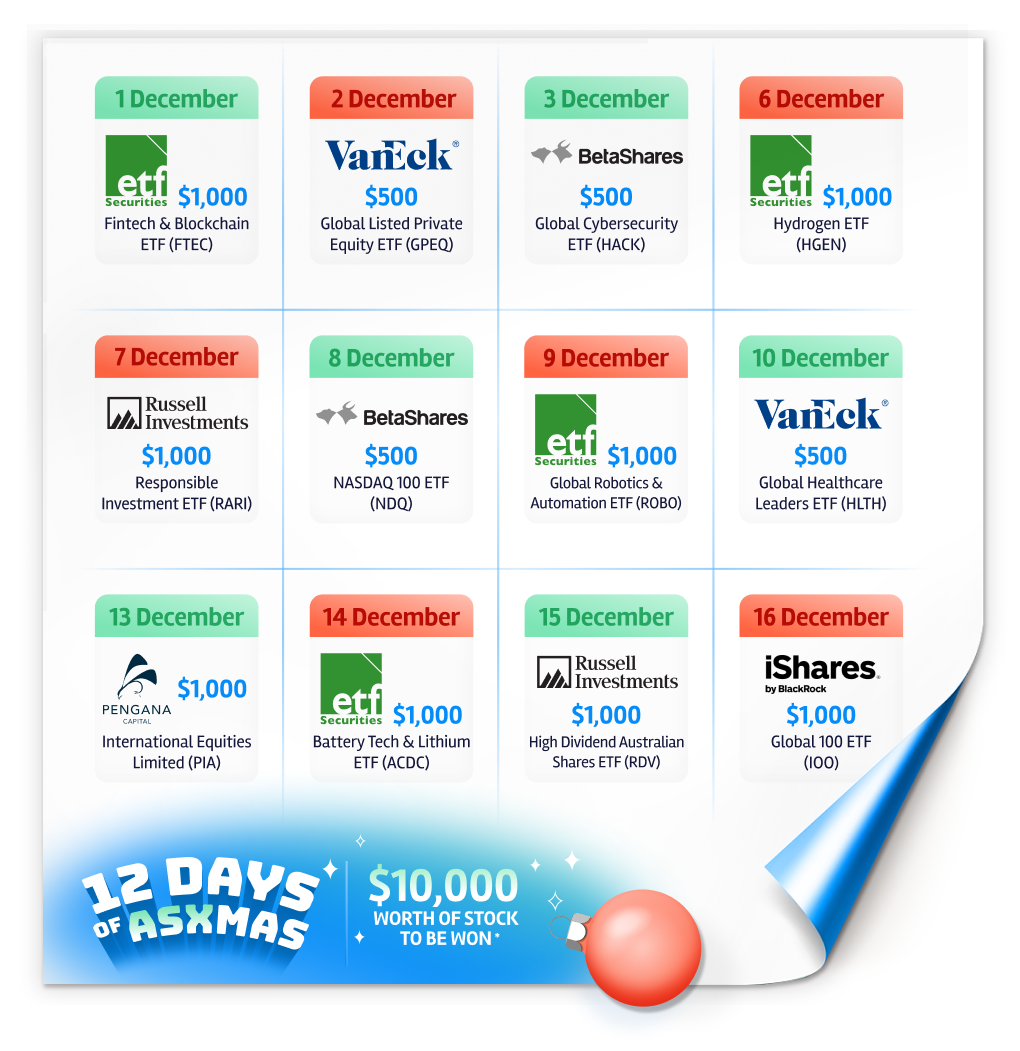 Terms and Conditions
The competition commences at 12:00am AEDT on 1 December 2021  and final entries close at 11:59pm AEDT on 16 December 2021 (Competition Period).

This competition gives Superhero customers the chance to win up to A$1,000 of an ETF each day for 12 business days (weekends excluded) in December.

In order to be eligible to win one of the ETF prizes users must place an Australian or U.S. share or ETF trade in their Superhero trading account on the day corresponding to that prize.

Each competition day begins at 12:00am AEDT and ends at 11:59pm AEDT. 

Each trade on the Superhero platform is counted as one competition entry and users can enter the daily draw multiple times each day.

Competition prizes and their value are as follows:

1 Dec – ETFS Fintech & Blockchain ETF (FTEC) – A$1,000

2 Dec – VanEck Global Listed Private Equity ETF (GPEQ) – A$500

3 Dec – BetaShares Global Cybersecurity ETF (HACK) – A$500

6 Dec – ETFS Hydrogen ETF (HGEN) – A$1,000

7 Dec – Russell Investments Australian Responsible Investment ETF (RARI) – A$1,000

8 Dec – BetaShares NASDAQ 100 ETF (NDQ) – A$500

9 Dec – ETFS ROBO Global Robotics and Automation ETF (ROBO) – A$1,000

10 Dec – VanEck Global Healthcare Leaders ETF (HLTH) – A$500

13 Dec – Pengana International Equities Limited (PIA) – $1,000

14 Dec – ETFS Battery Tech & Lithium ETF (ACDC) – A$1,000

15 Dec – Russell Investments High Dividend Australian Shares ETF (RDV) – A$1,000

16 Dec – iShares Global 100 ETF – $1,000 

The winner will be selected at random after the Australian market closes each day using a number generator to select the winning trade and user.

Winners from the previous day will be notified by email and announced via Instagram stories each day during the Competition Period.

All winners will receive their prize in their Superhero trading account 2 business days after the end of the Competition Period.

The value of the prize will be as stated at time of market order placement but is subject to fluctuate due to the dynamic nature of markets.

U.S. trades made after 11:59pm AEDT on Fridays during the Competition Period will not be counted as eligible competition entries.

Pending and cancelled trades are excluded from this competition.

Employees and their immediate family members, contractors, sub-contractors and agents of Superhero are excluded from participating in this competition.
The Superhero Terms and Conditions also apply in addition to the terms and conditions of this competition.