This analysis of Airbnb is part of Equity Mates Summer Series, proudly supported by Superhero. Listen to the podcast episode here.
Equity Mates take
"I thought of a way to make a few bucks…" That is how the email from Joe Gebbia to Brian Chesky started in September 2007. Fast forward 15 years and that way to make a few bucks has created a company worth 107 billion bucks. Airbnb is one of the best business stories to come out of Silicon Valley in the past few decades and it all started so simply. 
Today, it is the dominant name in short term accommodation. Speaking for ourselves here at Equity Mates, most of our travel searches start and end with Airbnb. We couldn't think of the last time we've looked at hotel prices. 
While the business has been hit hard by the pandemic, the share price hasn't. It is actually up ~17% from where it started in 2020. Investors are clearly feeling good about the company's prospects moving forward. A lot of this is due to the network effect it has built and the two-sided marketplace it has managed to scale. 
Airbnb is an incredible business, it has just never been able to make a profit. So, as it emerges out of the pandemic, that is what we will be watching as investors. 
Tell me about Airbnb
Airbnb is a two-sided marketplace for short term accommodation. It has over 5.6 million accommodation listings globally and has had over 1 billion guests hosted through their platform. 
On the hosting side, the majority of Airbnb hosts are individuals listing spare rooms or rental properties they manage. Airbnb has 4 million hosts (which together have listed 5.6 million places), and 90% of these hosts are individuals. According to Airbnb, the average host earns US$9,600 a year. The listings are spread around the world, although the majority are in North America and Europe. 
On the traveller side, Airbnb offers a cheaper and often more authentic experience than hotels. A 2017 study by Morgan Stanley suggested that Airbnb's awareness level amongst travels grew to 80%. While studies differ (and prices move), studies suggest that Airbnb is often cheaper than their hotel competition. In Europe, estimates are that Airbnb's are anywhere from 8-17% cheaper than a regional hotel's average rate and in the US, Airbnb's are estimated to be between 6-17% cheaper than hotels. 
The thing that we admire most about the Airbnb business, and a lesson any disruptive business should learn from, is when you create a new category you can set the rules. The traditional hotel experience was to pay on departure. Meaning that hotels incurred all of their costs before they got paid for the stay. Airbnb flipped this on its head, taking payments at booking but only paying hosts after the stay was complete, giving Airbnb a float. No one ever questioned why this was the case, or asked Airbnb to shift to a more 'hotel like' business model. When you change the game, you can reset the rules. 
What about the industry?
Airbnb may have taken the world by storm, but it still represents a small percentage of the overall short-term accommodation industry.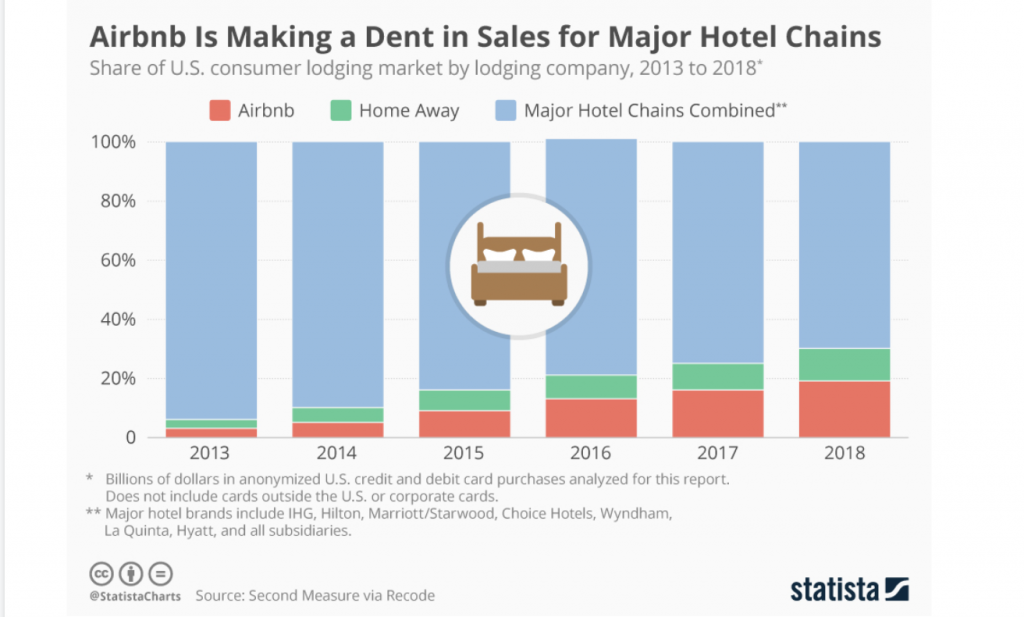 While the whole market was hit hard by COVID lockdowns, in hindsight, Airbnb may have been the biggest winner in the industry. It appears that they were able to take meaningful market share from their traditional hotel competitors.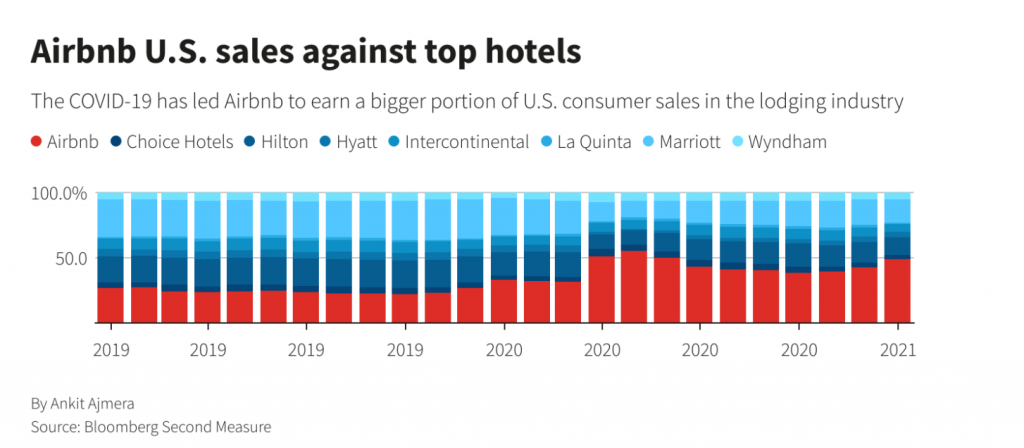 An interesting trend that is emerging in the hotel space is that Airbnb's hotel competitors have adopted a 'if you can't beat them, join them' attitude. Today about 15% of Airbnb's listings are actually hotel rooms. This puts Airbnb up against the traditional hotel aggregators such as Trivago and HotelsCombined. For the hotels, this is important to get in front of the most travellers. For Airbnb, it is just more opportunity to be the one-stop travel accommodation booking platform. 
Let's get to the numbers 
Share price 
Airbnb believes their total addressable market is $3.4 trillion, made up of $1.8 trillion for short-term stays, $210 billion for long-term stays and $1.4 trillion for experiences. 
In this context, their $100 billion market cap could be just the start of their journey. Emphasis on could. 
Since listing in December 2020, the Airbnb share price is up about 20%. When the company first listed, still in the middle of ongoing COVID disruptions, the share price was up over 50%. However, 2021 brought with it ongoing lockdowns and the Deltra COVID variant – dulling investors hopes of a quick reopening. Since then, the share price is down 20%, but is still up from where it listed.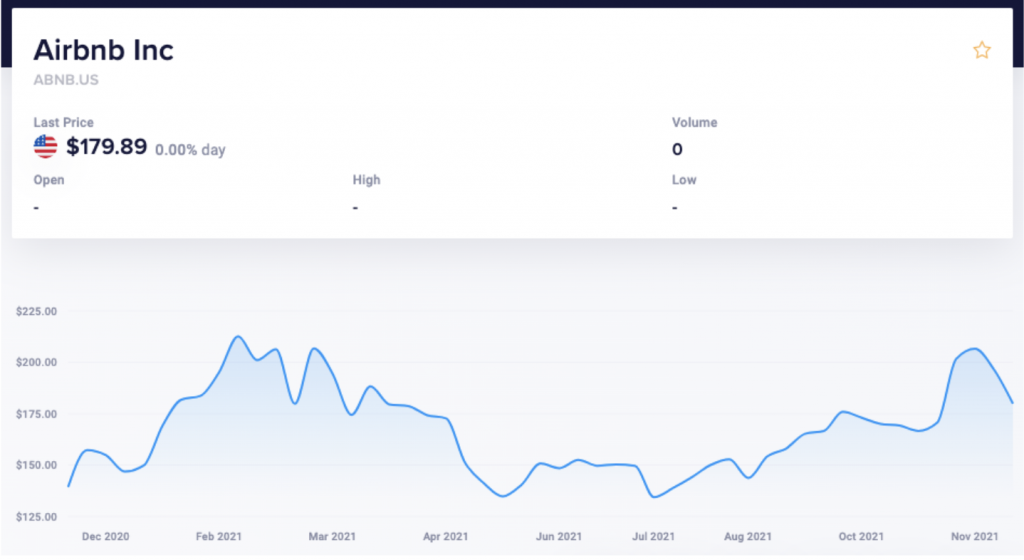 Revenue and profit 
Airbnb, like many of these tech startups, is not profitable. In 2020, the company brought in $3.4 billion in revenue but made a loss of $4.6 billion. That year was heavily impacted by COVID, so looking at 2019 gives a cleaner view of the company. In 2019, Airbnb made $4.8 billion in revenue and a loss of $674 million.
Excluding COVID, we have three years of numbers from the platform. Revenue has grown from $2.6 billion in 2017 to $4.8 billion in 2019 – a 37% compound annual growth rate. In that same time the company's loss has increased, starting at $70 million in 2017 and increasing to $674 million in 2019.
As you can see from this chart, 2020 was a year that was wildly out of the norm (unsurprisingly given COVID lockdowns). We will be closely watching the January and February reporting season to see Airbnb's 2021 results to see if it repeated 2020 or was able to right the ship. 
Final thoughts on Airbnb
Airbnb is a fascinating company. Alongside Uber, it was the leader of a generation of Silicon Valley companies emerging in the early 2010's that used technology to disrupt industries and establish new 'peer-to-peer' business models. It is now the #1 brand in short term accommodation and has entrenched its network effect by scaling its two-sided marketplace. 
The important question we have about Airbnb is – what more can they build? Are there product extensions or other monetisation opportunities that Airbnb can capitalise on? 
The list of failed side bets or product extensions is growing. Trips, Experiences, Backyard and Content – none of these product extensions have landed in the same way that the core Airbnb platform did. This isn't to say that they won't, just that they haven't to date. Given that Airbnb's own estimates put the experiences market as nearly as large as short-term stays ($1.4 trillion for experiences v $1.8 trillion for short-term stays), this is an important question for the company to answer. 
While they work on that, the core business is one of the strongest globally. The two questions for investors will be how quickly they can make that core business profitable and how much market share they can take from their traditional hotel competitors. While there are plenty of investing options out there, and many investors choose to stay away from unprofitable tech companies, we wouldn't be betting against Airbnb. And we certainly won't be starting our holiday accommodation searches anywhere else. 
Make knowledge your superpower and up your skills and know-how with our news, educational tools and resources.