This analysis of Match Group is part of Equity Mates Summer Series, proudly supported by Superhero. 
Listen to the podcast episode here and read more analysis here.
Equity Mates take
We're coining a term for Match Group – the ETF of love. 
If you're bullish on love (and how much people will pay to find it), then Match Group might be the investment for you. We don't know how many dating apps there are in the world, but we do know that Match owns most of them. Starting with Match.com, the company has moved with the times and owns some of the biggest dating apps – Tinder, Hinge, Plenty of Fish, OkCupid. 
It is also important to note the changing societal view of online dating. For a long time it was seen as a last resort for those desperate or lonely and unable to meet someone in person. Well that has well and truly changed. Almost 20% of all relationships in the US now start online. 5% of those who are married or in committed long-term relationships met their spouse online. The likelihood is that 5% becomes 15% and then 50% and beyond, as any lasting stigma around online dating vanishes. There can't be any stigma around online dating when we'll all soon be living in the metaverse. 
Tell me about Match Group 
Match Group owns more than 45 dating apps and websites including Tinder, Hinge and Match. Their apps have been downloaded by over 750 million people worldwide and the apps are available in over 40 languages. The majority of these dating apps operate on a freemium model, where users can sign up and use for free or subscribe to a paid plan for additional features and functionality. These apps make money in two ways – advertising revenue, and subscription revenue from those that choose to pay for extra functionality.
The below is from a Match Group company presentation and offers some insight into their largest platforms.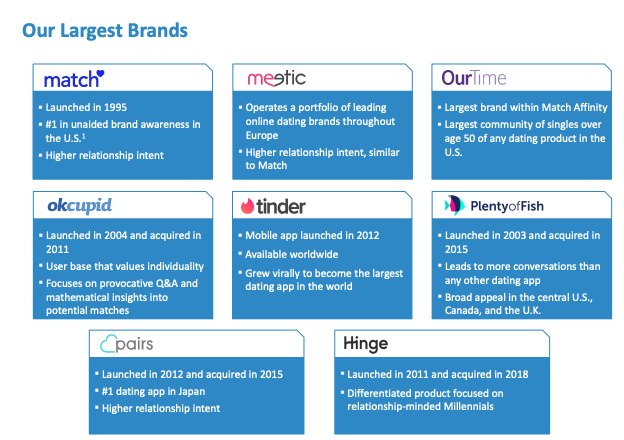 There are three major dating apps that Match Group does not own – Bumble, Grindr and Badoo. Two of these apps – Bumble and Badoo – are owned by Bumble (NASDAQ: BMBL). Before Bumble went public, Match did try to acquire Bumble for $450 million. This was Bumble's response: 
Dear Match Group,
We swipe left on you. We swipe left on your multiple attempts to buy us, copy us, and, now, to intimidate us.
We'll never be yours. No matter the price tag, we'll never compromise our values. 
We swipe left on your attempted scare tactics, and on these endless games. We swipe left on your assumption that a baseless lawsuit would intimidate us. Given your enduring interest in our company, we expected you to know us a bit better by now.
Bumble is now worth $4 billion (even after falling ~55% from where it started trading as a public company). So it appears Bumble's executive team had the last laugh. 
What about the industry?
In short, love is big business. Globally, users of dating apps have grown from 185 million in 2015 to 270 million in 2020 (Compound Annual Growth Rate of 8%). In that same time, revenue has grown from $1.69 billion to $3.08 billion (CAGR of 13%). Importantly, these numbers tell us that users are growing but also that revenue per user is growing (because revenue has grown faster than users). If the industry keeps adding users and every user generates more revenue that is a trend that bodes well for Match Group, Bumble and any other player in this space. 
Within the industry, there are a few giant apps and a long tail of more niche apps. The size advantage that Tinder and Badoo have is important because of the strong network effect in dating apps. A network effect refers to the situation where a product gets more valuable for every existing user with each additional user (for example, Facebook becomes more valuable the more people are on it). A dating app can have all the best features and functionality, but it will never be able to compete against a rival app with all the users (and potential matches). 
Tinder remains the most downloaded dating app in the world. For example, in May 2021, Tinder had 6.5 million downloads while Badoo had 3.9 million downloads and Bumble had 1.7 million. TInder also remains the biggest earner – bringing in $65 million in revenue in May 2021 compared to $20 million for Bumble and $5.7 million for Badoo. 
It is important to understand that there is a geographic spread to these platforms. While most of them are available globally, they have different strengths in different parts of the world. Tinder is the most popular dating app in North America, however Badoo is the most popular in South America and Europe and Tantan is the most popular in China. 
Let's get to the numbers 
Share price 
So, is love a good business? The past year has been pretty volatile for Match Group but the share price ultimately is in a similar place to where it started, down 1% in the past 12 months. However, zoom out and the story gets more compelling. 
Since being spun out of IAC in early 2019 into a standalone company, Match has more than doubled investor's money. The share price is up 140% since February 2019. 
Revenue and profit 
In 2020, Match brought in $2.4 billion in revenue. According to the company's presentation, this has grown at 21% CAGR from 2016 to 2020. 
Unlike a lot of software businesses in the US, Match Group is profitable earning $128 million in profit in 2020. According to Match, they have grown EBITDA at a CAGR of 22% since 2016 however that number is difficult to confirm from old company reports. The separation of Match from IAC in 2019 makes some of the older numbers outdated. 
Zooming in and changing to look at quarterly numbers, it appears Match continues to grow their top line revenue strongly. In the past 3 quarters they have reported year-on-year growth of 22.6%, 27.4% and 25.3% respectively. In that same time profit is basically flat. Despite some one-off exceptions, Match appears to generate around $100-150 million in profit a quarter. This fast growing revenue and relatively steady profit suggests that Match is investing heavily in growth in an attempt to improve their technology and capture more market share.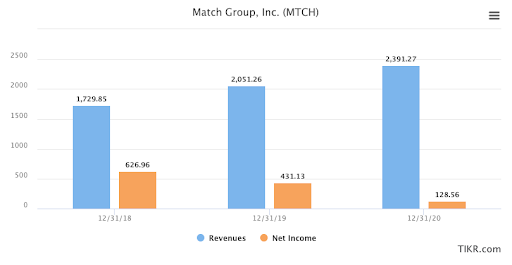 Final thoughts on Match Group
Dating apps, like love itself, may be fickle. Users can have accounts with multiple platforms, there is zero switching cost and trends and technologies are constantly changing. The macro trends are all there – a growing global population, increasing smartphone adoption, reducing stigma around online dating – the question is just which app or platform will benefit. Match Group has decided not answer that question and instead own them all (or at least try to own them all). Right now Tinder is their most valuable platform and is the biggest dating app in the world, but that could change. Bumble and Badoo are challenging them for market share and it appears there is no love lost between the two companies. 
It is clear there is a lot of money to be made in the business of love. Match Group may be as close as you can get to an ETF on the industry as a whole.
Make knowledge your superpower and up your skills and know-how with our news, educational tools and resources.