This analysis of Peloton is part of Equity Mates Summer Series, proudly supported by Superhero. Listen to the podcast episode with Australian Country Manager Karen Lawson here 
The brief
Peloton (TICKER: PTON.US) provides interactive fitness products such as the Peloton Bike and the Peloton Tread, that streams live and on-demand classes.
Equity Mates take
Peloton has taken the home fitness market and turned it on its head. Forget the days of the late night infomercial selling at home fitness equipment. Peloton has made at home fitness a brand. And they have built a community of millions of users around this brand. 
Peloton has had an interesting 2021. At the time of writing, the share price is down 74% this year. Yet, the business continues growing users and expanding to new countries (including, recently, Australia). It is one of the most divisive companies going around – to some it is a fitness revolution and to others it is an expensive exercise bike with an iPad. 
The great thing about the stock market is that those who feel strongly can put their money where their mouth is. For those of us that don't have a strong opinion, we'll just write about it instead. 
Tell me about Peloton 
Peloton is the largest interactive fitness platform in the world, with a community of more than 6.2 million members. The company started in 2012 and was heavily focused on cycling and bringing the studio spin class experience to at-home fitness. In 2017, 94% of workouts were cycling related. However, the company has invested heavily in diversifying its fitness offering – running, yoga, strength, stretching etc. – and today cycling is just 58% of all Peloton workouts. 
Peloton is expensive. There is no denying that. This isn't your traditional exercise bike, instead it is a premium product with a premium price tag. In Australia, the cheapest bike starts at $2,295 and the 'bike plus' comes in at $2,495. On top of that, to access Peloton's classes there is a recurring $39 a month subscription. 
Below is a look at how Peloton compares to some of its major competitors. 
We cannot write about Peloton without mentioning the pandemic and lockdowns. User numbers exploded over the past two years as gyms were shut and people were forced to find ways to exercise at home. 
These user numbers, sourced from a company report, tell a lot of the story.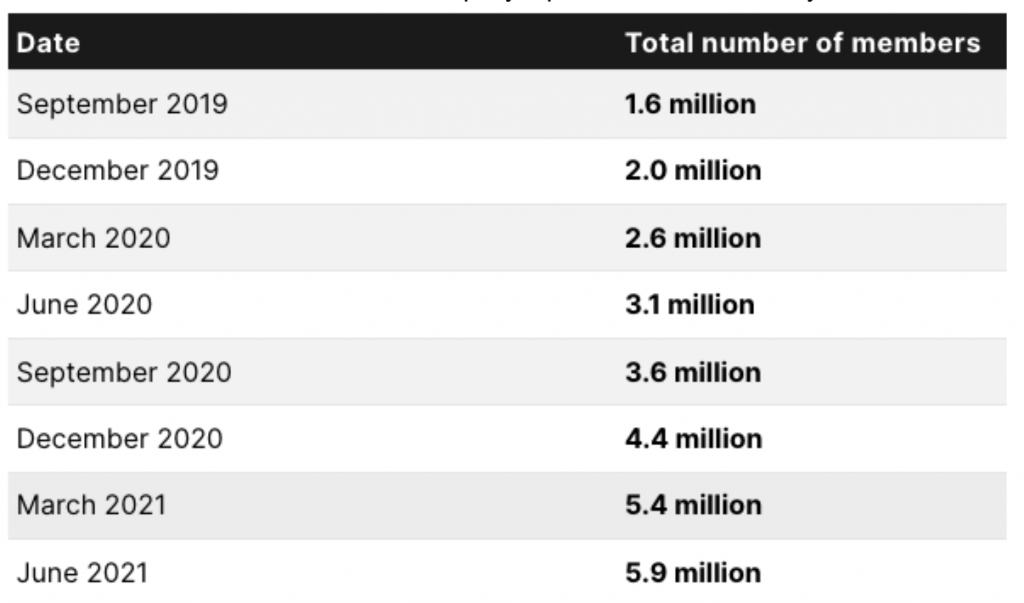 One of the most impressive numbers we came across in researching Peloton was their 12-month retention rate (i.e. how many users are re-subscribing for another 12 months). Their 12-month retention rate is 92% – i.e. only 8 in 100 people are cancelling their subscriptions. For comparison, Netflix has a 93% retention rate. 
What about the fitness industry?
If competition is defined by substitutable possibilities, then Peloton faces a large number of competitors. The global health and wellness industry is valued around $5 trillion and expected to be over $6 trillion by 2025. 
Narrowly defined, there are plenty of competitors in the at-home fitness space. There are the traditional exercise equipment sellers and a whole new breed of new, technology-enabled fitness products, including Tonal (fitness mirror) and Hydrow (rower). Broadly defined, Peloton is competing against gyms and fitness studios and every other way people get fit, including just running or cycling outside. These options are not mutually exclusive (you can have a Peloton bike at home, maintain a gym membership and still run outside) but the cost of the Peloton makes it unlikely. 
Unpacking Peloton's pricing strategy, it is clear they are targeting the spin cycle studios in America (for example Soul Cycle). Below is a monthly price comparison (assuming the Peloton bike is purchased on an interest-free, three-year payment plan offered by the company). 
Source: Medium, Inge Lammertink
This has clearly resonated with an American audience. The question will be whether Peloton has as much success converting spin class users in other countries (for example, in Australia, the spin class is included in the price of a gym membership rather than the 'per class' cost at Soul Cycle). 
The industry is massive, with plenty of potential customers and well capitalised competitors. Peloton started with a narrow focus on taking the spin studio experience and replicating it at home. Now, as they expand their product offerings into treadmills, strength workouts, yoga and stretching, they are increasing the size of the opportunity and also their number of competitors. 
Let's get to the numbers 
Share price 
Since listing on the stock market in September 2019 to December 2020, Peloton's share price was up almost 550%. A lot of this was driven by the global lockdowns that forced people to find ways to exercise at home. Then, as the world opened up, from December 2020 to December 2021 the share price has fallen 76%. 
Taking a step back, in a little over 2 years, the share price is up a little more than 50%. 
This is a fact that often gets lost in all of the conversation around Peloton. If you had asked investors in September 2019 when it listed, if they would've been happy with a 53% increase in 2 years – the overwhelming answer would've been yes. It's just been a volatile journey to get here.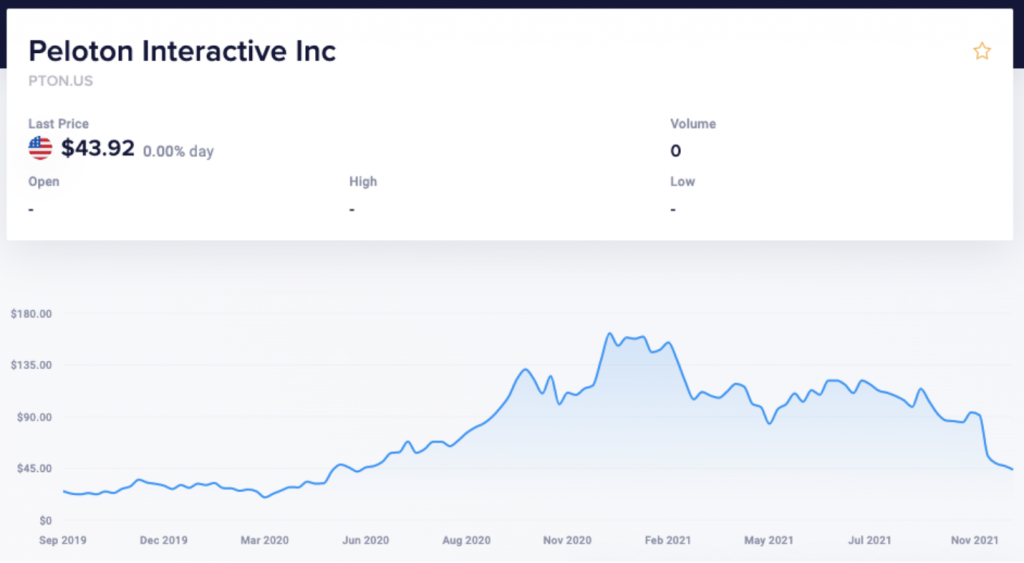 Revenue and profit 
In the 2017 financial year, Peloton brought in $216 million in revenue. By the 2021 financial year, they brought in over $4 billion. This represents a compound annual growth rate of 108%. Unsurprisingly, Peloton is not profitable and has increased its losses as it expands into new countries. 
Final thoughts on Peloton
This is one of the most divisive stocks in the financial community. There can be no denying it has been an incredible business story to date. They have created a premium product that has taken the at-home fitness industry out of the 1980's and into the 2020's. The question becomes – how big can this business become? What does at-home fitness look like post-pandemic? And how many people can be convinced to pay a premium for this product?
What is clear, is that people that use a Peloton bike, love it. If Peloton can maintain retention rates above 90%, they will be able to build an incredibly strong community. Their challenge is to convince more people to give them a try. 
Make knowledge your superpower and up your skills and know-how with our news, educational tools and resources.