"But Qantas has bounced back strongly from Covid," they said. 
"Isn't it time for another dividend?"
Amidst the turbulence of the global pandemic, Australia's leading airline has emerged as an emblem of resilience and adaptability. 
Unlike its weakened rival, Virgin Australia, Qantas has weathered the storm and posted optimistic updates as revenge travel continues to surge.
With increased profit margins and a multifaceted business strategy, including its successful Loyalty division, it's clear the airline has shrugged off the less-equipped players to grow out from the ashes.
So, will Qantas continue to gain altitude and reward its shareholders in 2023? Buckle up as we take a look.
Qantas' share price: up, up and away
Where would the ASX be without Qantas Airways Limited, our shining Australian flag carrier airline? 
With a foundation dating back to 1920, it stands as one of the oldest operating airlines globally, providing both domestic and international flights. Today, it holds a prominent position as one of the largest airlines in the Asia-Pacific region.
Despite the challenges posed by the pandemic in 2020, Qantas' share price has witnessed a remarkable ascent, climbing over 19% in the past year.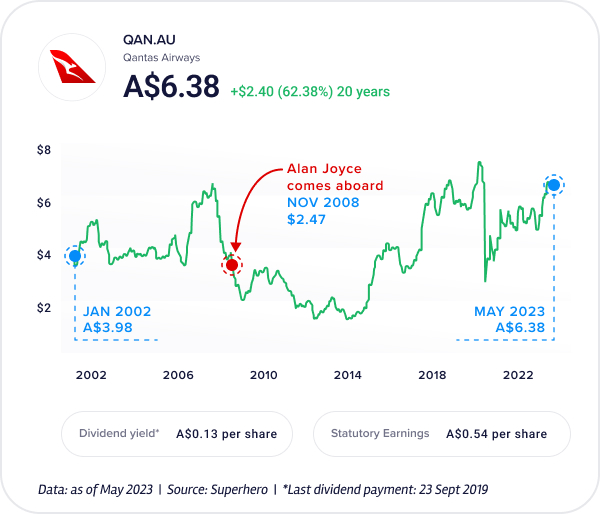 In April 2023, it even surpassed trade volumes of tech giants like Tesla, Apple, Amazon, and lithium heavyweights on Superhero's platform (that's us), securing the number one spot.
And it went from 30th place in 2022 to our number 1 traded stock this year.
So what's driving this activity?
Fortunately, there are some signs.
Profitability takes flight: Qantas topples Virgin Australia
In the fierce battle for dominance in the Australian airline industry, Qantas has emerged as the clear victor over its key competitor, Virgin Australia. While Virgin Australia faced financial turmoil and ultimately went into administration during the pandemic, Qantas managed to navigate the stormy skies and achieve impressive profitability.
In fact, the airline reported a staggering $1.43 billion in profits during the second half of 2022, firmly reestablishing itself as the industry leader. This remarkable turnaround was a testament to the strategic decisions made by the airline's management, led by Alan Joyce.
By securing $2 billion in government pandemic relief and effectively managing operational costs, Qantas survived and thrived while Virgin Australia faltered. This triumph over its rival has further solidified Qantas' position as Australia's premium airline.
Now, it's forecasting a record $2.5 billion profit at the end of the current financial year (FY23), with wheels in motion to return some of that to investors with an on-market share buyback. 
Explainer: Qantas is buying $500 million of its own shares across several months and reducing its shares on issue. That means the overall value of the company is divided across fewer shares, putting upwards pressure on the share price and delivering capital gains.
Diversified revenue streams: success beyond the skies
Qantas has shown that it's not just a one-trick pony when it comes to generating revenue. The airline has spread its wings into different areas, creating a diversified business model that goes beyond traditional flight operations.
One of the standout stars in Qantas' revenue portfolio is its beloved Loyalty program, which raked in an impressive $1.3 billion in 2022 (almost the same as its Jetstar business).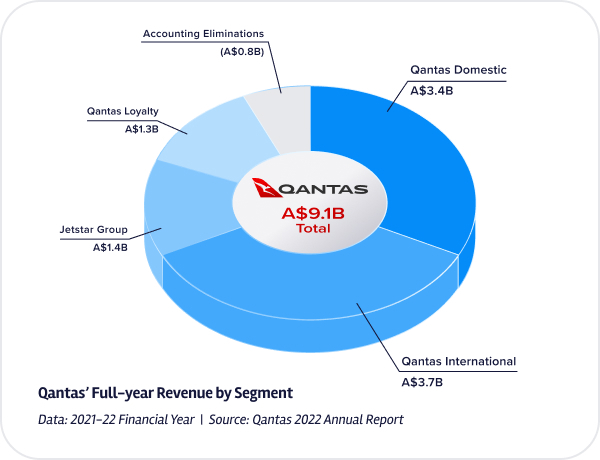 But Qantas doesn't stop at making travel rewarding. It's now stepping into the mortgage market. Yes, you heard it right. Qantas is helping people turn their dreams of owning a home into a reality with 'Qantas Money Home Loan', backed by Bendigo and Adelaide Bank. 
That should come as no surprise, given the company has offered credit cards and insurance for a while. But home loans are where the big bucks are.
The unique offering rewards mortgage holders with Frequent Flyer points based on the duration of their loan: a move that's likely to draw in those who dream of having their house and leaving it, too.
While Qantas continues to venture into new territories, it remains a powerhouse in the international travel segment. The airline has made a remarkable comeback from the challenges of the COVID-19 pandemic, fuelled in part by the surge in revenge travel. (Thanks to the pent-up demand for European summers.)
Age before beauty: the strategic advantage of Qantas' ageing fleet
Qantas' fleet is reaching its retirement age. The planes average 15.4 years (that's old in plane years), meaning a significant number will need to be replaced in the near future.
For context, data shows the average age of Cathay Pacific's fleet is 10.8 years, Emirates is 9.5, and Singapore Airlines is just 7.1 years.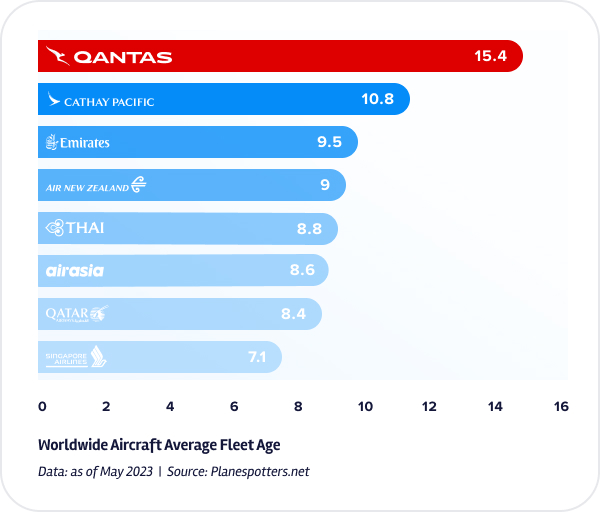 And while older planes typically cost more to run, stretching the life of your fleet defers capital expenditure. More often than not, the savings on depreciation expenses can outweigh the extra running costs.
Some shareholders are hopeful this careful management of cash continues to deliver the healthy profits we've seen to date. Others are worried it may impact plans for their already-delayed dividends.
Alan Joyce leaves a legacy of shareholder value
For an impressive 15-year period, Alan Joyce has served as the high-flying captain steering the course of Qantas. That makes him one of the longest-serving CEOs on the ASX — a reign defined by his cost-cutting and hard-ball leadership style. 
Joyce became synonymous with Qantas thanks to some headline-worthy events under his leadership. And his influence is hard to overstate. 
In 2011, he made the controversial choice to ground all the planes over an industrial dispute, and in 2013 he entered into a historic partnership with Emirates to expand its international reach. 
Then, in 2020, when planes were grounded under very different circumstances, Joyce threaded the needle by negotiating $2 billion in government pandemic relief while its main domestic rival Virgin Australia, went into administration. 
Now, with travel bouncing back to pre-pandemic levels, the company is posting profits again. ($1.43 billion in the second half of 2022, to be exact.)
Regardless of how Australians feel about him, he has etched his mark on Qantas' history. In fact, it's hard to think of Qantas without thinking of Alan Joyce.
The next chapter: Vanessa Hudson takes the captain's hat
Qantas recently announced Joyce's successor would be current Chief Financial Officer and company veteran Vanessa Hudson.
Hudson has been in the company in various roles since 1994. To put her tenure into perspective, that's the year Nelson Mandela got elected (and O.J. Simpson got arrested).
And if you didn't already know, she's also the first-ever female CEO in the airline's 103-year history. (About time, right?)
Shareholders and the public are now eagerly awaiting her leadership and the potential for continued success. Can she win back the public and continue to deliver strong returns when she takes the controls? Only time will tell.
But one thing's for sure: Hudson will need to spend big on its fleet to maintain its status as a premium carrier.
Building on reputation: Qantas' brand and customer satisfaction
Qantas' reputation has long been one of its most prized assets. It's indisputably the top dog down under and punches above its weight even on the world stage. Skytrax ranked it the fifth-best airline in the world in 2022, while Airline Rankings put it first for safety. 
But despite these accolades, the company copped significant flack from disgruntled customers after it was slow to return its service to pre-pandemic standards.
It seems that prioritising safety and on-time performance are non-negotiables in this fiercely competitive industry. Qantas knows it must make customer service, safety and reliability the wings of its success to command higher prices than Virgin.
Key summary
Survival of the fittest: Qantas has emerged stronger from the pandemic by managing costs, capitalising on its closest rival's instability and achieving increased profit margins through a diversified business model.

Shareholders have experienced substantial capital gains under Alan Joyce's leadership, and a dividend may be on the horizon.

The appointment of Vanessa Hudson as CEO brings fresh opportunities for growth and a focus on maintaining Qantas' premium status.

Upholding its renowned reputation and prioritising customer service will be essential for Qantas' continued success.
Superhero was born out of the need to make investing affordable and accessible for everyone. With flat $5 brokerage on ASX-listed shares like Qantas and $0 brokerage (other fees may apply) on Wall Street shares, our customers enjoy some of the lowest prices available — all while earning Frequent Flyer points along the way. Create a free account and start investing in minutes.
Superhero does not provide financial advice that considers your personal objectives, financial situation or particular needs. Any advice provided is intended to be of a general nature only.
Make knowledge your superpower and up your skills and know-how with our news, educational tools and resources.