This analysis of REA Group is part of Equity Mates Summer Series, proudly supported by Superhero. Listen to the podcast episode here with REA Group CEO Owen Wilson.
The brief
REA Group is an online property advertising business that operates across Australia, Asia, and North America. Its sites include realestate.com.au, realcommercial.com.au, Flatmates.com.au, spacely.com.au, rumah123.com, and 1form.com among others.
Equity Mates take
It's not too much to say REA Group is one of the best businesses Australia has ever produced. We're not even saying it – on the podcast we like to ask expert investors for the best company they've ever seen, and REA is often the answer.
Australians love housing, and REA's main platform realestate.com.au is basically a toll road on the Australian housing market. If you want to sell a house, you're listing on realestate.com.au. If you want to buy a house, you're starting your search on realestate.com.au. REA can set the price for listing and you'd be a brave seller not to pay it.
We're not breaking news here. The market realises the quality of REA Group and it is currently trading at a 70 price-to-earnings ratio. So there is a lot of growth expected. But you'd be a brave investor to bet against Australian's love of housing, and for those of us that can't afford a house, companies like REA Group and Domain give us a chance to be exposed to the unstoppable, unaffordable residential housing market.
Tell me about REA Group 
REA Group started as realestate.com.au, a property listing platform, but it has evolved into so much more. It is now a multinational business with a presence across 4 continents. In Australia, it operates multiple platforms – realestate.com.au, realcommercial.com.au, flatmates.com.au – as well as a mortgage broking business and a data services business. Overseas, it has a controlling interest in REA India and investments in property listing platforms in the US and across Asia.
What about the industry?
Every country has its own dynamics, so for this industry breakdown we want to focus on Australia because that is the core of REA Group's business. In Australia, there is a real duopoly in real estate listings – REA Group and Domain. Both businesses are linked to the traditional media businesses they disrupted. Domain was founded by Fairfax in 1999 and was named after the newspaper pullout it has since made redundant. REA Group was founded in 1995 and News Corp invested a few years after. News Corp is now the majority owner of REA Group (owning ~60%) and the majority of News Corps remaining market value is in this ownership stake (side note: News Corp has seen a 910x return from this investment, not bad for old Rupert).
REA and Domain may be a duopoly, but it is also a David and Goliath story. In October 2021, REA Group had double the amount of web traffic than Domain, 54.4 million visits compared to 27.9 million. REA Group also has better financials (largely because Domain has hung on to a legacy newspaper and magazine publishing arm). REA Group boasts gross margins of between 70-78% compared to Domain's 56-60%. For REA Group this means better cash flow and more money to reinvest in growing their business.
Zooming out from the property listing industry and looking at the Australian property market more generally it is one of unbelievable growth. Australia's property market continues to relentlessly grind upwards (averaging growth of 7-8% a year for the past 30 years) supported by a raft of government policies to keep pricing high – negative gearing, first home owner grants and super saver schemes, stamp duty exemptions for first home buyers, tax exemption for main residences. Governments are aware that the fastest way to lose an election would be to rug pull the housing market by ending negative gearing or something similar. So house prices keep grinding upwards, with recent Domain data suggesting that Sydney's median house price is nearly $1.5 million.
Let's get to the numbers 
Share price 
Over the past 5 years, REA's share price has more than tripled (up 217%). Since the COVID lows of March 2020, the share price has more than doubled. Today, REA Group enjoys a market capitalization of almost $21 billion, putting it right on the edge of the ASX 20 (the 20 largest listed Australian companies). For comparison, Domain has a market cap of $3 billion.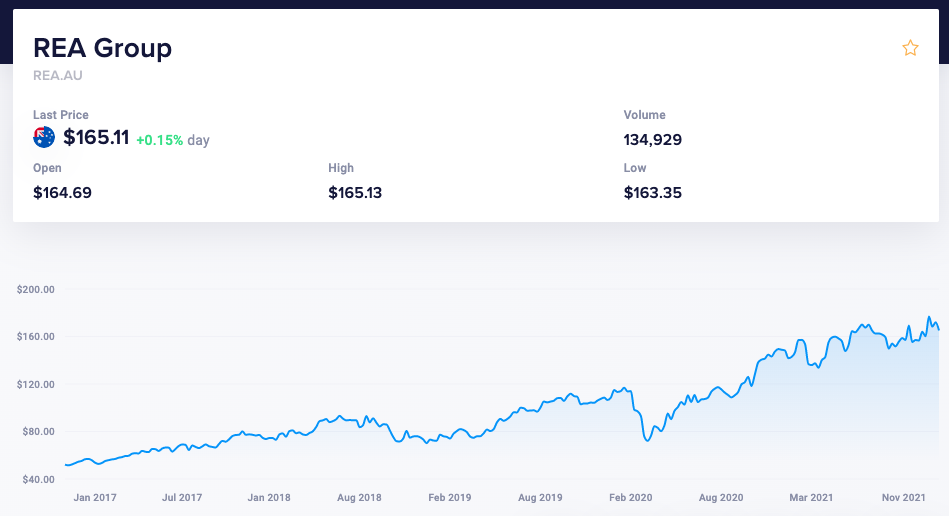 Revenue and profit 
In 2021, for the first time in their history, REA Group cracked $1 billion in revenue. That was up 14% from the year before and almost double where it was five years ago ($579 million in FY16). 2021 was also REA Group's most profitable year, reporting $323 million in profit for the financial year.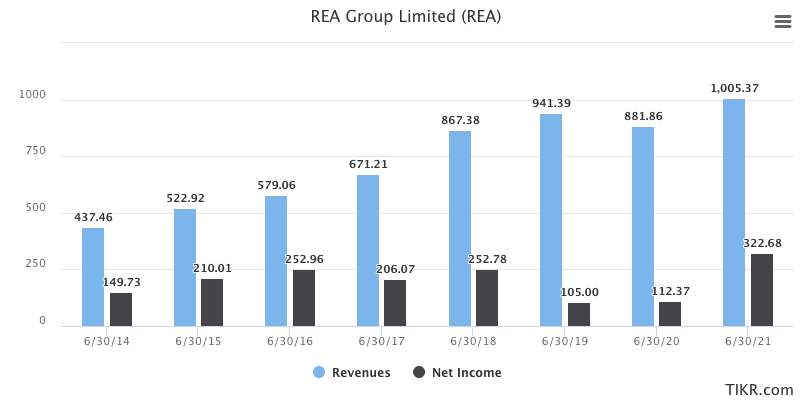 Final thoughts on REA Group
REA Group is a powerhouse company in Australia, and everyone knows it. There used to be a saying in American funds management "you don't get fired for picking IBM". In Australia, REA Group may be that company. It would be a brave investor to bet against it.
The big question looking at REA Group today is what does its future hold. With a dominant position in Australia, it is trying to find new areas of growth. It has made big bets overseas, and sees much of its future tied to India. That will be one to watch. The second area of growth is back home in Australia in adjacent services. REA already originates 5% of home loans in Australia, and they have ambitions to do more.
A great company can be a terrible investment if you overpay for it. And looking at REA Group that is really the only question that remains. Can it continue growing to justify the price you would be paying today?
Make knowledge your superpower and up your skills and know-how with our news, educational tools and resources.