The launch of Tesla flew in the face of all conventional market wisdom. To find the last successful U.S. car start-up, you'd have to go back to Chrysler in 1925. Yet Tesla launched anyway and despite at least two close calls with bankruptcy, the company is not only profitable but has helped make EVs cool.
The origins of Tesla
While the Tesla brand now seems synonymous with CEO Elon Musk, the automaker's origins predate the South-African entrepreneur.
Back in 2003, engineers Martin Eberhard and Marc Tarpenning founded Tesla with the vision of electrifying the automotive industry. They reasoned that not only did combustion engines need to be phased out, but early adopters shouldn't have to compromise on their ride to make it happen. Musk, an early investor, agreed and initially threw in US$30 million of his PayPal fortune to help get the company moving.
And so Tesla was born, rolling out its first model in 2006. It was a two-seater with 7,000 lithium ion batteries packaged together under the hood. It was only made possible after another engineer figured out how to manage the heat generated by the batteries to stop them from catching fire and exploding.
Executives would later compare the early Roadster to a first prototype that shouldn't have left the factory line. But the financial pressure to simply get something to market (and fix it later) was too great to delay.
It wouldn't be the last time the EV-maker drove by the seat of its pants. From humble (and fairly desperate) beginnings, Tesla emerged.
The opportunity
Tesla might have helped put electric vehicles on the world stage with sleek designs and a slew of industry awards, but the sector is far bigger than even Elon's own ego – and adoption is picking up pace every year.
The world bought 6.5 million electric cars last year, up from around 3 million in 2020. One in seven cars sold in Europe are now electric as governments implement aggressive new targets. Another mind blowing stat: in 2021, all of the net growth in global car sales came from EVs.
Yet the market is still relatively new with growth highly concentrated in China, the United States and Europe where 9 out of every 10 EVs are sold. Others like Australia are lagging behind with few tax incentives to encourage buyers. The price of new vehicles is still prohibitive meanwhile in big emerging markets like India, Brazil and Indonesia.
It leaves plenty of headroom for an industry just finding its feet. With the number of EV models growing and accommodative policies still rolling out, analysts value the total EV-market opportunity at US$53 trillion.
As a market leader, Tesla is in a prime position to take advantage.
Did you know: Tesla almost didn't make it?
During the 2008 financial crisis, Elon Musk put every dime he had into Tesla to buy the company some time before it would have to declare bankruptcy. It meant the company had until Christmas to secure emergency funding.
At the very last hour, the automaker received a $40 million loan to pull it back from the brink of collapse.
Today, Tesla is the most valuable car company in the world.
The challenge
An acute shortage of semiconductors has wrong-footed automakers of every persuasion. Used for everything from power windows to dashboard displays, a lack of microchips has hamstrung production lines at the same time that demand has soared.
While Tesla has sidestepped many of these supply disruptions, it has finally caught up to the brand. Last month, executives revealed that deliveries for next quarter would likely be flat due to prolonged lockdowns in China.
At the same time, the price of essential metals have soared. Copper and nickel are up around 70% since pre-pandemic levels. In the last 12 months alone, the price of lithium has grown fivefold, leaving Musk suggesting Tesla might have to get into mining directly to ease pressure. Rival BYD did just that last week, taking over six whole operations.
Rising costs are being passed onto customers. The average EV now costs US$65,000 straight off the car lot versus US$45,000 for a petrol-powered car. To date, successive price hikes haven't turned away buyers but a weakening economy and high inflation could still change all of that.
Nor is it just with challengers like Rivian and Fisker that Tesla has to contend. Increasingly, traditional automakers are converting their factories and gearing up to electrify their next fleet of cars. Will Tesla be able to see off the Fords and GMs of the world?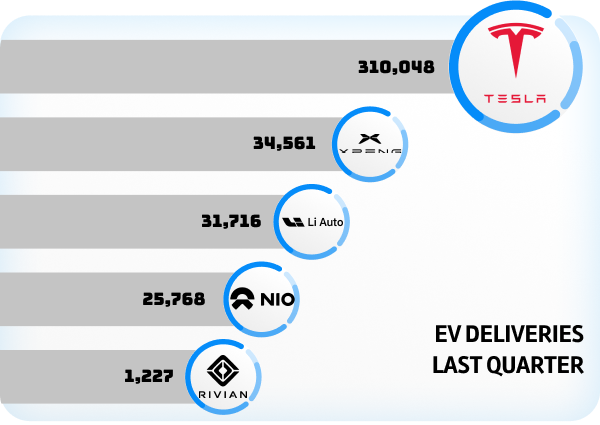 The future of Tesla
There's a few big turning points in the EV race to the mass market. The first is price: which companies will produce the first EVs affordable for the average family? The second is production: which companies will be able to produce them at scale?
Yet sedans are just the tip of the iceberg for Tesla. The opportunity to produce the electric vans, trucks and buses of the future presents multiple new markets to grow into. Tesla claims its Semi truck could save companies US$200,000 in fuel for example although it may have given up its first mover advantage there.
Self-driving also presents another exciting expansion for Tesla. However Musk's rejection of LIDAR technology could see it left behind with reports emerging this year that suggest it may have misjudged its bet on camera tech.
This brings us to a common refrain from Tesla believers, that the car company is actually a tech company. By programming its own software and modifying Samsung chips in-house, the company has the ability to create its own tech ecosystem, in the same vein as Apple.
Meanwhile, it's at the forefront of developing batteries, powerpacks, solar panels and charging stations. In developing this proprietary technology, Tesla has more control over its customer experience as well as the ability to aggressively attack new opportunities.
Get US$10 worth of Tesla stock when you refer a friend to Superhero or trade Tesla (TSLA) on Superhero for $0 brokerage (other fees may apply). Dive into your favourite companies on Superhero's Learn Hub.
Superhero does not provide financial advice that considers your personal objectives, financial situation or particular needs. Any advice provided is intended to be of a general nature only.
Make knowledge your superpower and up your skills and know-how with our news, educational tools and resources.