We're pleased to announce that customers will now be able to use Superhero to trade on behalf of their SMSF, Company or Trust.
From today, you'll be able to set up these new account types and begin enjoying the benefits of Superhero's low- cost platform, no matter how you choose to invest. You'll just need to be a director to open up a Company account with Superhero. 
Here's what you need to know.
How do I set up a new account type with Superhero?
It's simple. First, log in to your Superhero account, go to the Profile tab, select 'Add New Account' and then the Company option (if you are setting up a Trust or SMSF account you still need to select Company). 
You will be asked to provide the ACN (Australian Company Number) of the account you wish to link. Once you have completed this step, you will be able to select whether you are setting up a Company, Trust or SMSF account.
You will need to provide details of any company directors, upload your Trust Deed and verify the identity of any beneficial owners. If you don't have the required documentation on hand, you can save your account application during the set-up process and come back at a later time to complete it.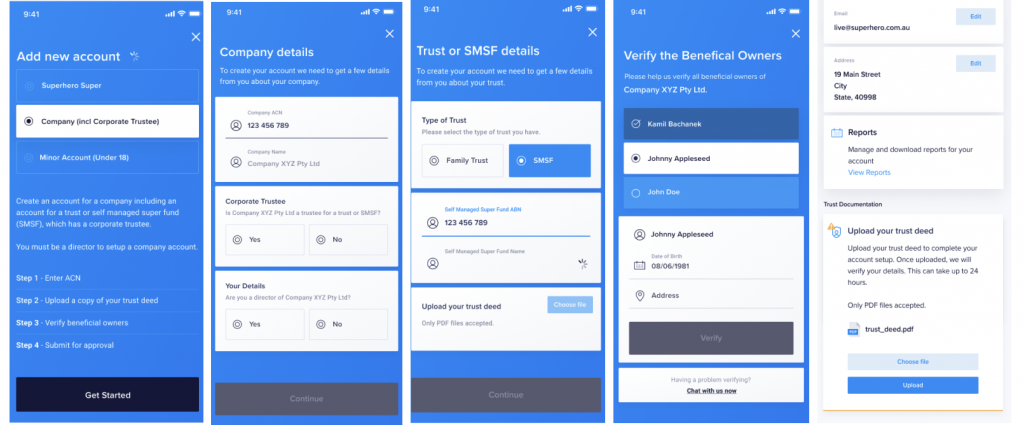 What investment options are available on Superhero?
Superhero is constantly growing to cover a wide variety of stocks and funds as they list on the market. Right now there are more than 2,200 Australian companies and hundreds of Australian exchange-traded products (ETPs) on the platform in addition to more than 4,800 U.S.-listed companies and funds.
What are the fees for the new Superhero account types?
When you join Superhero you pay no account fees, nor do you pay any fees on PayID transfers or bank deposits. 
Superhero charges zero dollars brokerage when you buy Australian ETFs or trade U.S. shares. You'll pay a flat $5 brokerage fee when you trade Australian shares and when you sell Australian ETFs, no matter how much you're trading. 
For a full rundown of costs, see our fee schedule here.
Need to know more? 
Check out our FAQs or dedicated Learn page to find out more about Superhero and how the platform works. Our friendly customer service team is also always available on chat if you need to speak with a real person.
If you require more general financial information, please see the Moneysmart and ATO websites.
Make knowledge your superpower and up your skills and know-how with our news, educational tools and resources.