For decades, many parents and guardians have invested regular savings into bank accounts on behalf of people aged under 18.
The idea? By making small regular deposits over time that earn compound interest, you'll grow a healthy amount of savings for your child when they turn 18.
That's money they can spend on a holiday, higher education, first car – or perhaps even towards a housing deposit!
Since we launched in 2020, we've had strong demand from parents and grandparents who want to invest on behalf of child. 
The good news is, now you can. Superhero offers the ability to set up a minor account so you can set your young one up for their future.
Set up a free Minor Account with Superhero
And don't worry if you have more than one child you'd like to invest for, because you can open more than one.
After you set one up, you'll be sent a unique PayID, BSB and account number. 
That makes regular deposits – even birthday bonuses – easy to transfer.
You are legally responsible for the operation of the account and for complying with Superhero's Terms and Conditions.
And once the person you've been investing for reaches 18 years of age, they will be able to create a Superhero Account in their own name. 
Superhero can then organise an off-market transfer of the assets from the minor account to their new (grown-up!) account. 
Sound good? Click here to find out how to set up a minor account.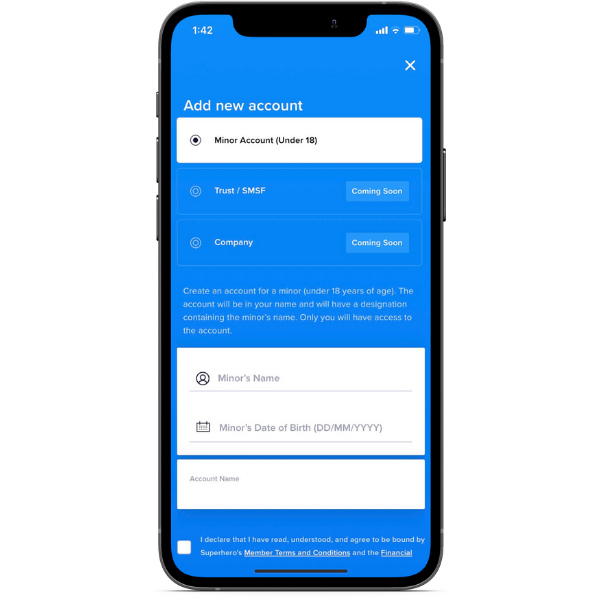 Make knowledge your superpower and up your skills and know-how with our news, educational tools and resources.