The COVID-19 pandemic has reminded investors everywhere that healthcare is big business. Billions of vaccinations and tests are being churned out globally in an effort to bring the coronavirus under control and return life to normal.
Healthcare spending in the U.S. has reached US$3.8 trillion. That's more money than the entire German economy! That figure is also expected to hit nearly US$12 trillion by 2040, according to a report by Deloitte. In Australia, total federal government spending on healthcare in 2019–20 was $81.8 billion.
There's plenty of opportunity for investors, with healthcare stocks taking up 13.4% of the benchmark S&P 500 Index. In Australia, the number is closer to 10% of the S&P/ASX 200.
Where can I invest?
CSL
In Australia, the biggest opportunity to invest in the fight against COVID-19 is through CSL. The ASX-listed biotech has been busy manufacturing the AstraZeneca vaccine. In May, CSL said it was pushing out AZ jabs at a rate of more than one million per week.
CSL is also pursuing research and development projects to fight against COVID-19. "These include multiple programs and partnerships spanning vaccines, monoclonal antibodies and plasma therapies," CSL said.
COVID-19 has thrown CSL some operational challenges but the business performed strongly enough to book a profit increase of 7.5% to $US1.25 billion in its most recent first-half results. 
CSL is mostly known for its blood plasma therapies. If you're in the U.S. you can go and donate your blood at between US$20 and US$50 a pop (that's one way of paying for CSL shares) then the company extracts the plasma for treatments.
Sonic Healthcare
Sonic Healthcare is the world's third-largest medical laboratory company and one of the biggest healthcare stocks on the ASX. While the ASX-listed healthcare provider has a radiology business and primary care centres, the main focus for Sonic investors has been COVID-19 testing.
At Sonic's last half year results, the company said it had performed more than 18 million COVID-19 tests across its 60 laboratories throughout the world. 
Sonic's CEO Dr Colin Goldschmidt told investors the only reason the company was able to achieve such volumes of testing was due to investments made "over many decades". He also expressed his belief that Sonic's staff "are unsung heroes of the COVID-19 pandemic".
Profits shot up a mind-bending 166% to $676 million.
AstraZeneca
AstraZeneca, which is listed in London and the US, is behind the most common vaccine used against COVID-19 across the world. The jab is in high demand in countries where the virus is still strong.
AstraZeneca is one of the largest diversified medical stocks in the world. In its first quarter results, the company reported 15% sales growth to US$7.32 billion. Its research and development spending also increased 25% to US$1.7 billion, which includes its COVID-19 research.
Pfizer
In its latest quarterly results, Pfizer raised its 2021 revenue guidance thanks in part to a stronger than expected performance from its COVID-19 vaccine. Pfizer is also making early research investments into other mRNA-based development programs and COVID-19 antivirals.
The American healthcare giant, better known for some of its blockbuster drugs that generate over US$1 billion in annual revenue, produces medicines and vaccines.
Johnson & Johnson
Johnson & Johnson has also joined the race to vaccinate the world. The US healthcare giant expects to deliver one billion doses by the end of 2021.
Unlike a lot of healthcare stocks that produce products we've never heard of, Johnson & Johnson has a much larger consumer arm. They make Band Aids! Not the Kate Hudson character in Almost Famous. The cutting off your thumb type.
In fact, the company's consumer health business rebounded 10% in its most recent quarterly results, while its medical devices business grew 59%. Both of these were chalked up to the recovery from COVID-19, as consumers emerge from lockdowns and start taking care of themselves again.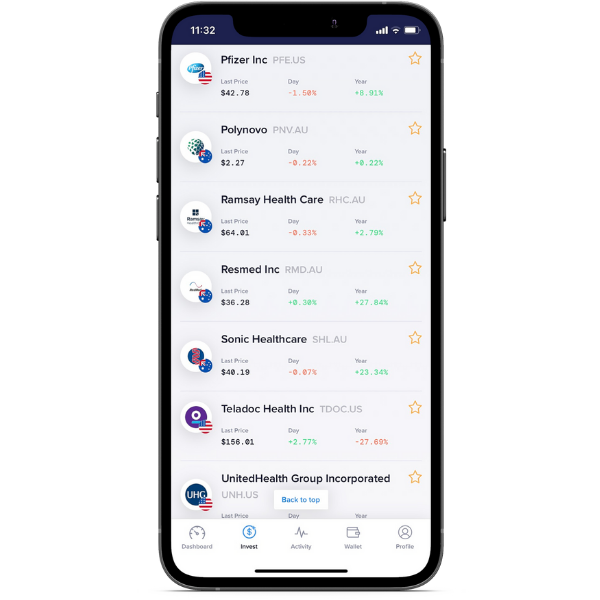 How have investors done so far?
Since the beginning of 2020, two months before the World Health Organisation declared COVID-19 a pandemic, the benchmark S&P/ASX 200 index has put on a respectable 10%. CSL has managed 6%, which isn't necessarily a bad result. CSL was considered expensive before COVID-19. But Sonic Healthcare has been on a tear, up 39% over the same period.
Over in the U.S., the benchmark S&P 500 has grown 35%. AstraZeneca's US-listed shares have risen 15% over the same period. Johnson & Johnson is next in line with 14% growth, while Pfizer has jumped 10%.
What could happen next?
Deloitte said COVID-19 had actually resulted in a slight dip in healthcare spending, which might seem odd. But it's mostly due to people minimising their doctors' appointments because they're terrified of contracting COVID-19.
The thing is, it's probable we will go back to the doctor. The driving forces behind the growth of healthcare stocks – an ageing population, increasing demand for care, economic recovery, clinical and technology advances, and the expansion of public health care systems – will likely come back into focus once we're all jabbed.
Make knowledge your superpower and up your skills and know-how with our news, educational tools and resources.