As we head into the end of the year and towards 2023, it's time to reflect on another huge 12 months in the market.
Here at Superhero, we've crunched the numbers to figure out what was hot with investors and what was not. This is what you traded in 2022.
Presenting Superhero's Year In Trades.
Living in a material world
A glance at the most-traded shares on platform and one thing becomes very clear: 2022 was all about commodities.
A full seven of the top ten traded companies belonged to the materials sector. Of those lithium names dominated, with Core Lithium (#1) and Pilbara Minerals (#2) taking out the top two spots while Sayona (#7), Lake Resources (#8), and Liontown Resources (#9) were hot on their tails.
Throw in iron giants Fortescue Metals (#3) and BHP (#5) and investors were clearly deep in the resources sector this year – and no wonder. Roaring commodity prices helped fatten up profit margins for miners of all stripes.
In a challenging year, lithium miners particularly proved a rare salvo for investors, with sustained record high prices.

Tech titans
When it comes to Wall Street, Aussie investors are still tech obsessed. Every single one of the top 10 most traded US companies on our list this year were big tech names. In fact, you'd have to look to Disney all the way down on #13 before you'd find any other sector on the board. 
FAANG (or should that now be MAANG?) stocks continued to dominate the top end of the rankings with Netflix being the notable exception. Rivian joined Tesla as the other electric vehicle representative while Nvidia and AMD's positions showed how loud the conversation around computer chips and the tech supply chain has become.
During an especially volatile year for US-listed Chinese companies, Alibaba just scraped in to be our tenth most traded US stock.
Laughing stocks
2022 also saw the re-emergence of meme stocks, particularly in the US market, with Reddit and social media platforms once again sparking interest in certain companies. 
In August, we saw a 345 per cent spike in trades of Bed Bath and Beyond week-on-week, making it the second-most traded US stock that month after perennial favourite Tesla. 
Companies like Revlon, AMC and Gamestop also saw renewed interest from investors with both BBBY and AMC making the Top 10 most traded stocks in August. Interestingly, Bed Bath and Beyond saw the biggest percentage increase in trade volumes year on year of US shares. 
Changing of the guard
ETFs have always been extremely popular on Superhero and this year was no exception. What changed notably was the fact that this year that enormous interest in US tech managed to usurp homegrown talent, with NDQ overtaking VAS to be the most popular ETF on our platform.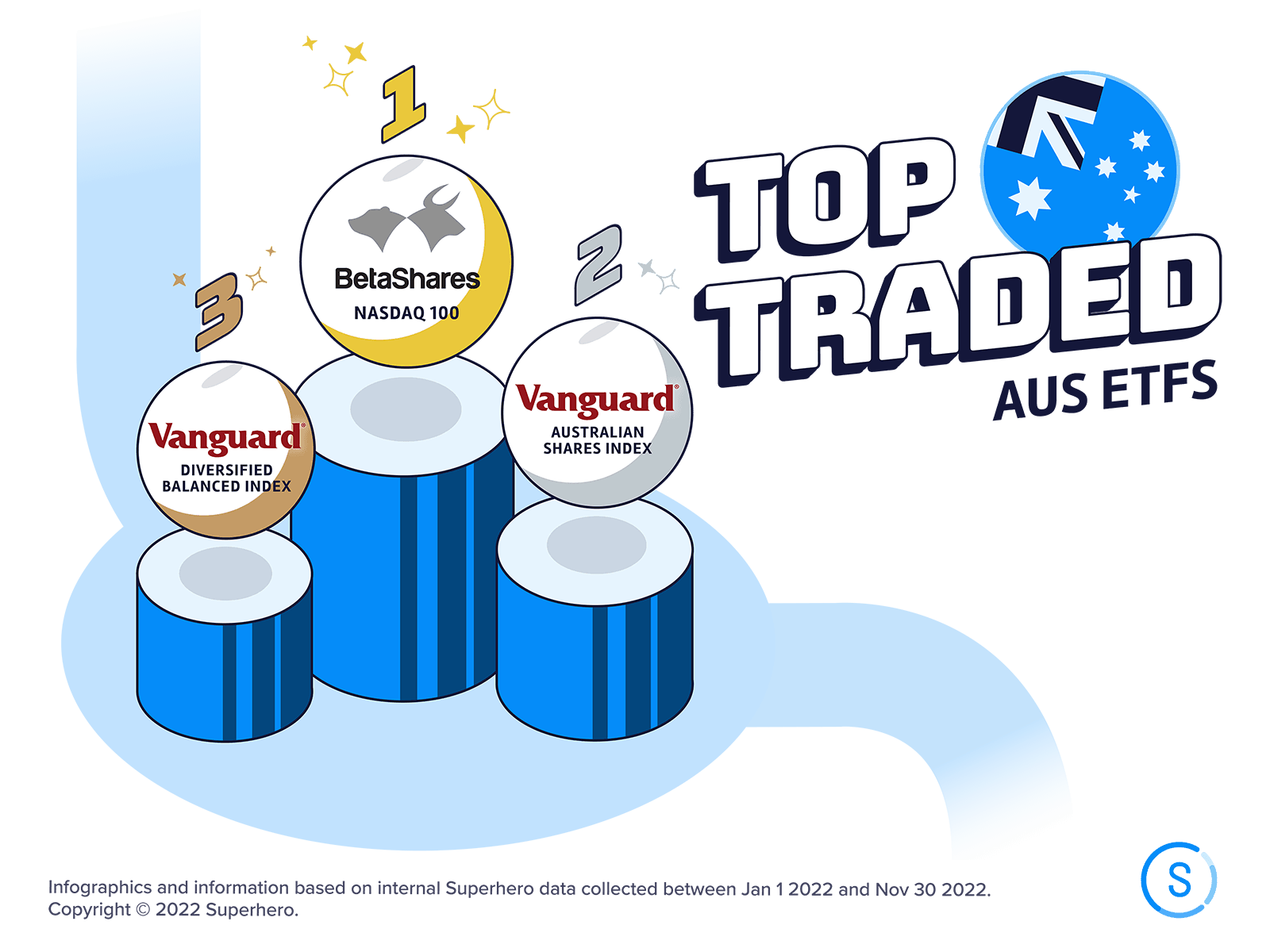 Looking over at US-listed ETFs, we can see evidence of this year's volatility. Investors finding the opportunity in it have turned to geared ETFs with long ETFs like TQQQ and short ETFs like SQQQ having become increasingly popular. We see the same trend play out across specific sectors such as biotechnology and semiconductors with investors taking on more risk to try and capture greater rewards in daily fluctuations.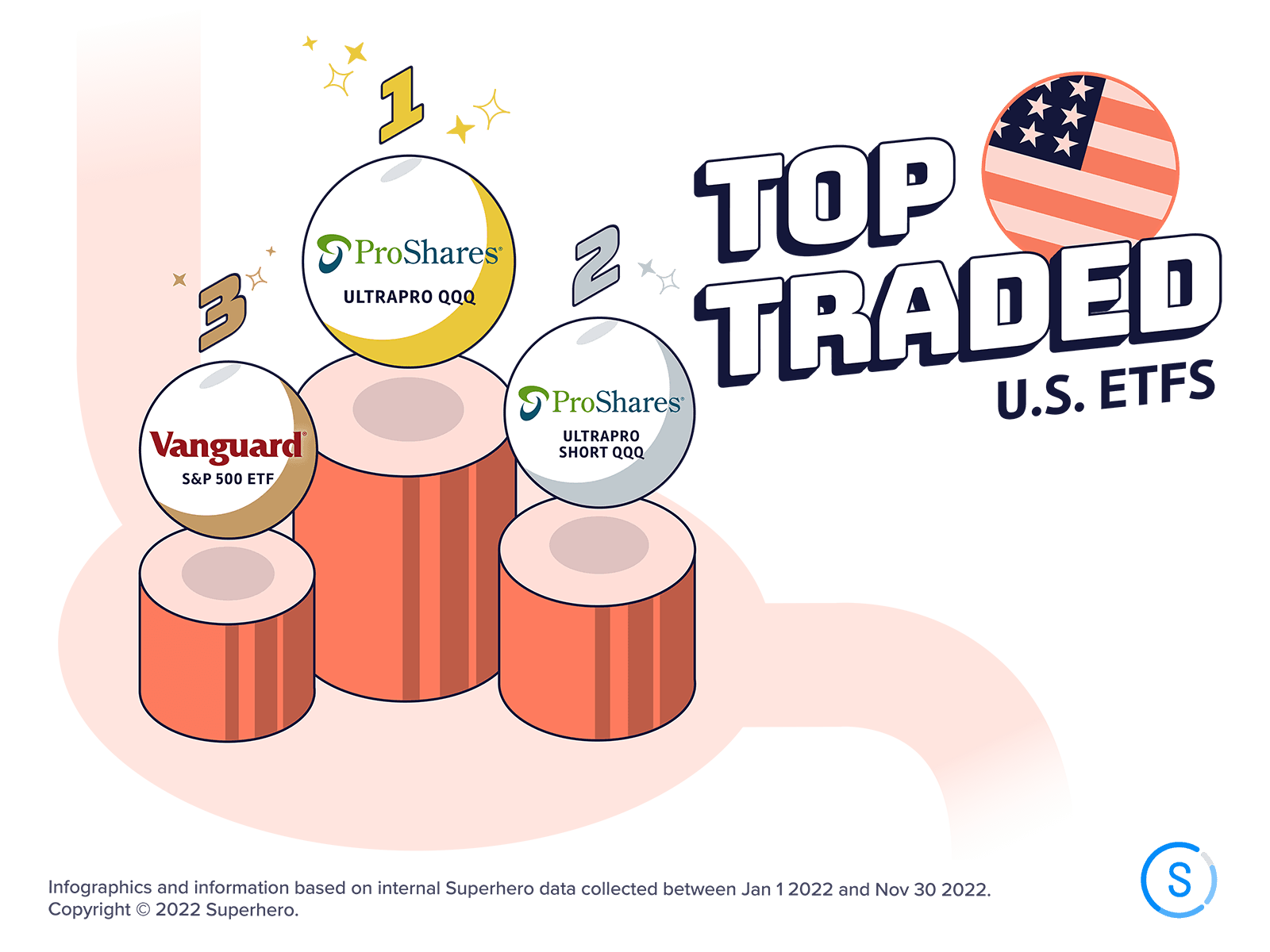 Race to the top
By sector, it was interesting to see which names investors favoured.
When it comes to the travel recovery, Superhero investors backed Flight Centre followed closely by Qantas to soar back to former highs. When it came to entertainment they preferred Disney over Netflix and on energy it was Whitehaven and Paladin leading the charge. 
Aussie retailers Wesfarmers and Woolworths were favoured while Amazon, Alibaba and Shopify ranked as the hottest ecommerce platforms. On financials it was the Commonwealth Bank that pipped Berkshire Hathaway while Imugene topped healthcare ahead of biotech giant CSL.
As we tie off this year, investors will have to ask themselves what the next 12 months will look like.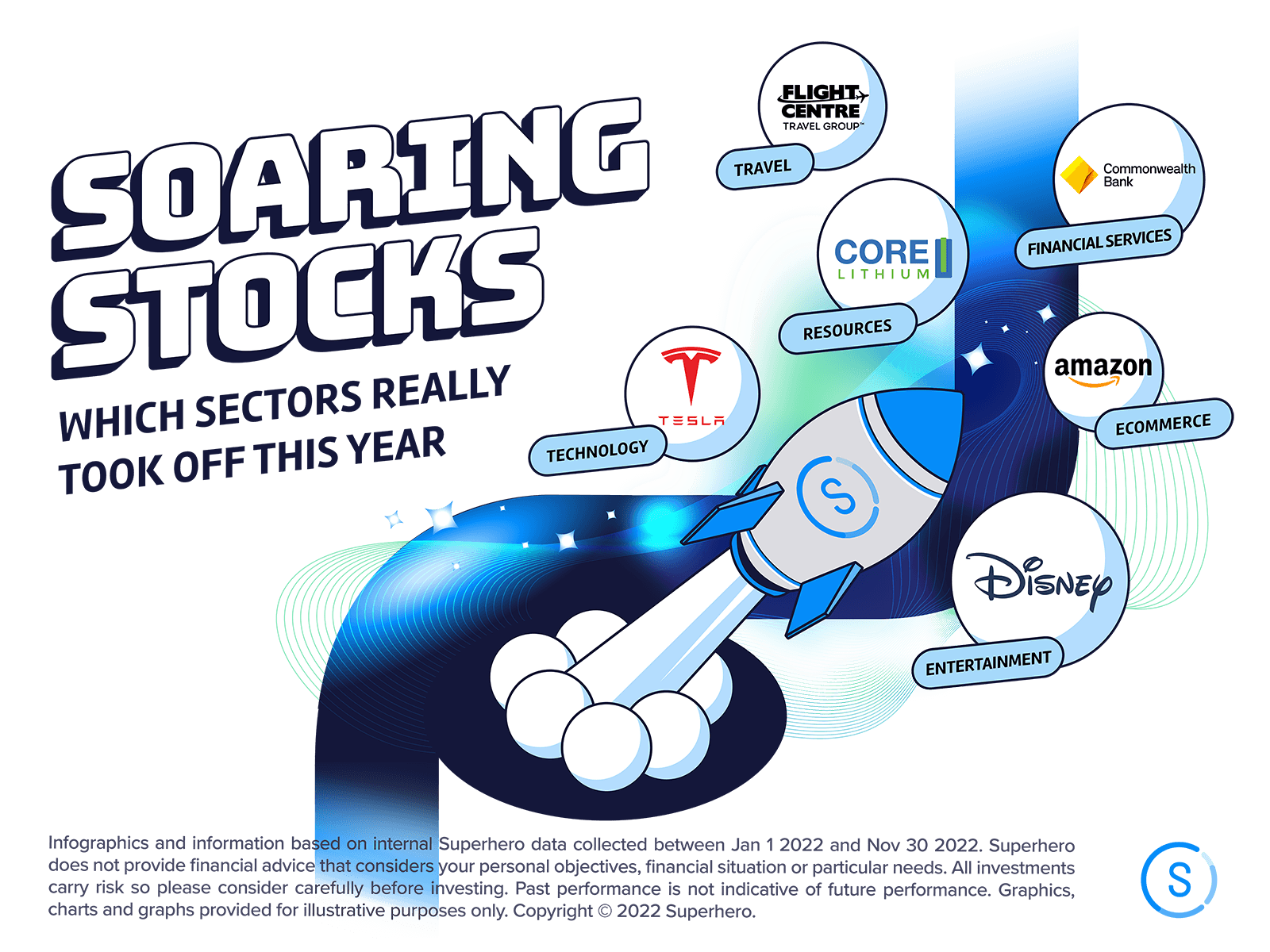 To view the full infographic, click here.
*Based on internal Superhero data collected between 1 Jan 2022 and 30 Nov 2022 (inclusive).
Infographics and information based on internal Superhero data collected between Jan 1 2022 and Nov 30 2022. Superhero does not provide financial advice that considers your personal objectives, financial situation or particular needs. All investments carry risk so please consider carefully before investing. Past performance is not indicative of future performance. Graphics, charts and graphs provided for illustrative purposes only. Copyright © 2022 Superhero.
Make knowledge your superpower and up your skills and know-how with our news, educational tools and resources.