Another year has flown by and, considering many Australians spent a third of it at home, it's hardly surprising. 
As we head towards Christmas it's time to reflect on what happened over 2021 and what we learnt – and what better way to do that than follow the money.
Presenting: Superhero's Year In Trades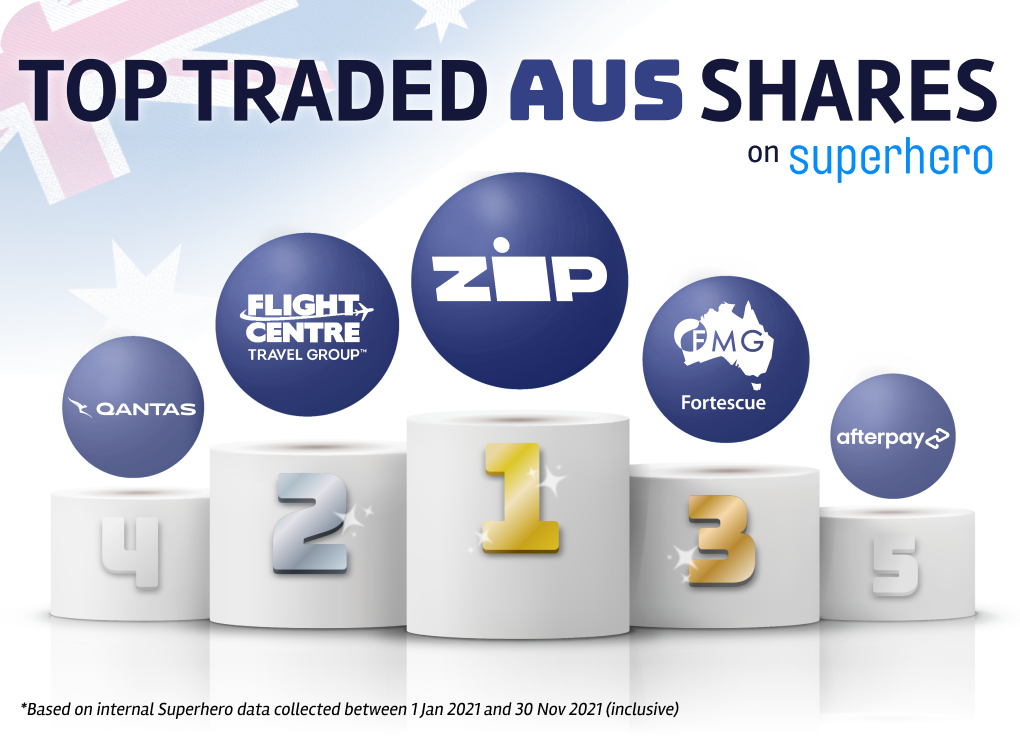 BNPL Punched Above Its Weight
Once again, it was Australia's home-grown buy now, pay later companies that proved to be local favourites. Zip was the number one most-traded stock among Superhero investors, with larger rival Afterpay trailing in fifth.
While neither has had the charmed run they enjoyed last year, 2021 has been no less eventful with each hitting an all-time high before falling back to earth.
Most notably, Block (formerly Square) put in a pending US$39 billion ($54.5 billion) bid for Afterpay. If it goes through it will be the single largest merger in Australian corporate history.
The enduring interest in Australia's largest two BNPL platforms saw them rank alongside long-established brand names like Flight Centre, Qantas and Fortescue, buoyed by renewed hopes of a travel recovery and a roaring year for iron ore.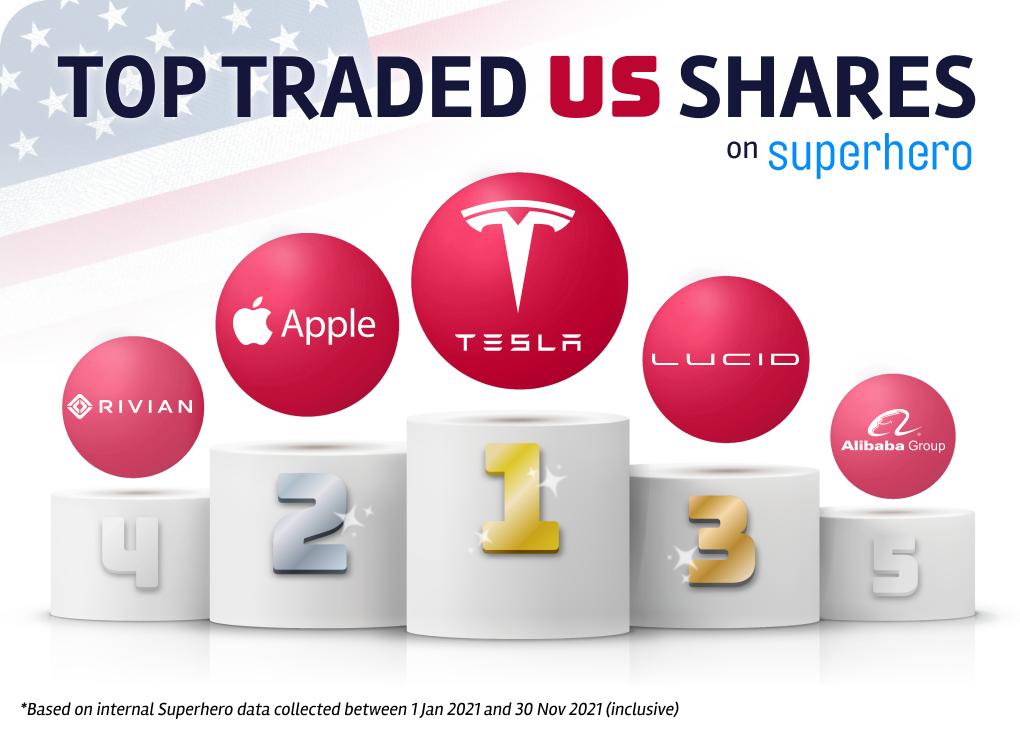 EV Mania Took Hold
One glance at the boards confirms EV mania well and truly took control of the market in 2021.
Many of you couldn't get enough of the automakers building your next ride. The trend was unmistakable with the most-traded U.S. companies on the platform being Tesla (#1), Lucid (#3), and Rivian (#4).
Perhaps it's no wonder then that Rivian, backed by Amazon and Ford, had the biggest IPO since Facebook back in 2012. Despite having made just 156 vehicles, Rivian is worth around US$100 billion today, or more than Honda and Hyundai combined.
Tesla, the company that kicked it all off, meanwhile continues to reward supporters, cracking a US$1 trillion valuation this year and looking to finish the year up more than 40%.
Collectively, the appetite for the sector was plain to see with DRIV (Autonomous and Electric Vehicles) being the most-traded U.S. ETF of the year.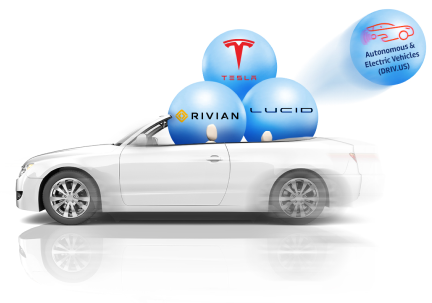 Lithium Powered On
Similarly, the burgeoning EV industry has managed to put a rocket under lithium as investors realise the enormous future demand for batteries and energy storage.   
As the largest producer in the world, the hype has unsurprisingly helped Australian miners soar, with no fewer than seven ranking as the most-traded ASX companies this year.
Pilbara (#6), Vulcan (#7), Sayona (#13), Lake Resources (#15), Piedmont Lithium (#18), Liontown Resources (#20), and AVZ Minerals (#24) all got a run, dominating the list of ASX favourites.
In turn, each has handsomely rewarded investors this year. Sayona Mining for example is up more than 1,000% in 2021 with Lake Resources not far behind.
There are a few battery companies which have caught the market's eye as well. Despite a major selloff in December, Novonix (#8) is still flying high. It began the year at $1.24 a share but looks destined to finish it at over $9.
ETF favourite ACDC – which tracks both battery and lithium stocks – meanwhile ranked as the fifth most-traded fund this year on the ASX. 
New Kids On The Block
It may be as volatile as ever but cryptocurrency truly came back into vogue this year, entering the mainstream and the stock market in 2021.
BITO became the first Bitcoin ETF to list on Wall Street and the second-most traded ETF in U.S. history. While it trades Bitcoin futures rather than the digital asset itself, it quickly became a popular way to get amongst the crypto action. Despite only arriving on the boards in October, it ranked as Superhero's 5th most-favoured U.S. fund of the year.
Hot on its heels, BetaShares' CRYP launched on the ASX last month. Invested in companies linked to the cryptocurrency market, it has quickly become one of the most-traded Australian ETFs (#24). Heading into 2022, it will be interesting to see whether or not the volatility – the ETF fell around 20% in November – and growing direct access see interest decline, or whether the promise of strong returns returns it to favour.
Buying The Dip
If 2020 kicked off the recovery, 2021 truly built on it. Markets reset record highs as companies – especially tech giants like Apple and Tesla – soared to new heights.
As the prospect of being able to travel again came closer, Flight Centre (#2), Qantas (#4), and Webjet (#15) all became firm investor favourites.
Similarly, a belief in an economic recovery helped elevate some familiar ETF names. On Wall Street that included VOO (#3) which buys the S&P 500 index. Closer to home, VAS (#3) and A200 (#11), which hold the largest Australian companies, got a run among Superhero investors.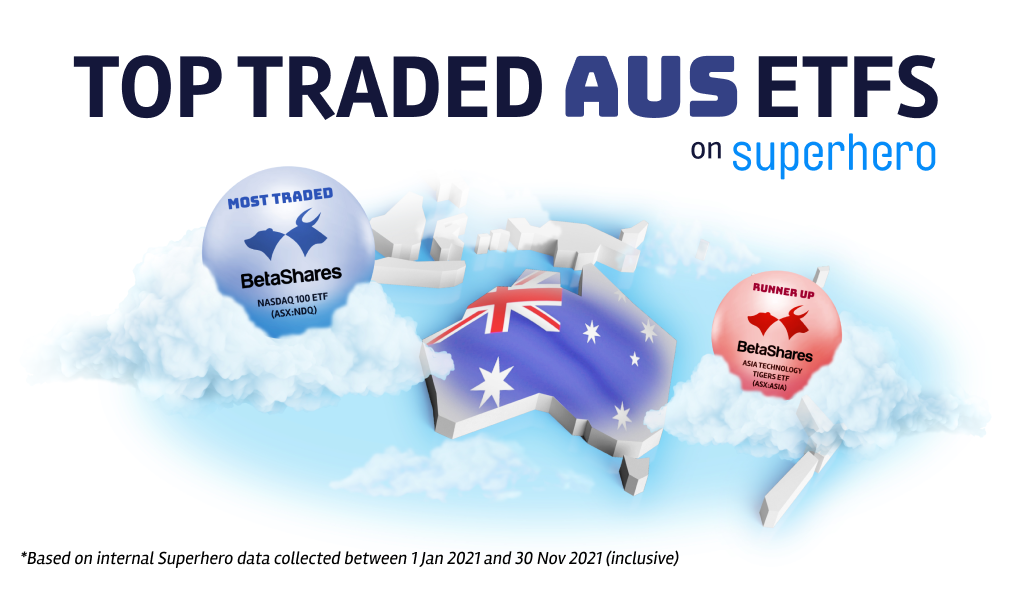 Investing In The Future
But after a year (or two) of living remotely, it is tech which continues to dominate the top of the boards. Apple, which looks like becoming the first US$3 trillion company, was the second most-traded U.S. stock of the year on Superhero.
Confidence in the sector is high. TQQQ, which tries to triple returns on the Nasdaq, was the third most-traded ETF in the US. It was closely followed by ARKK (#5) which specialises in "disruptive innovation".
The same trend shows up in Australia with the Nasdaq 100 proving the single most-popular ETF, followed closely by ASIA which tracks those tech giants emerging on the other side of the world. 
Certainly, future tech looks to remain a theme in 2022 if rebranding exercises are anything to go by. With Facebook rebranding its parent company to Meta and Square changing its name to Block, both have signalled that the metaverse and blockchain aren't going anywhere. As we head into next year, we'll see if the market agrees.
Make knowledge your superpower and up your skills and know-how with our news, educational tools and resources.