As electric vehicles (EVs) race to take over conventional cars, demand for lithium batteries – and the metals to make them – is soaring. 
For good reason. Sales of EVs are projected to eclipse traditional vehicles within the next 15 years while major markets like the United States aim to get there by the end of this decade. A surge in fuel prices earlier this year only heaped further pressure on drivers to consider switching sooner. 
Such has been the growing market for electric cars that automakers are struggling to even keep up amid a computer chip shortage. Yet the number of emerging brands kickstarting production – and the host of traditional automakers switching over their factories – indicates which way the wind is blowing. 
So while EV-makers like Tesla were among some of the most hotly traded companies of 2021, miners providing the minerals they need – such as lithium – have dominated the boards in 2022. As the saying goes, 'in a gold rush, sell shovels'.
But what actually goes into an EV?
Lithium
Lithium is perhaps the best-known battery metal with roughly 10 kilograms of the mineral going into a single electric vehicle.
It has also been one of the hottest commodities this year, with lithium prices rising fivefold since July last year. The price rise has been so dramatic that CEO Elon Musk even suggested that Tesla would go into mining lithium itself.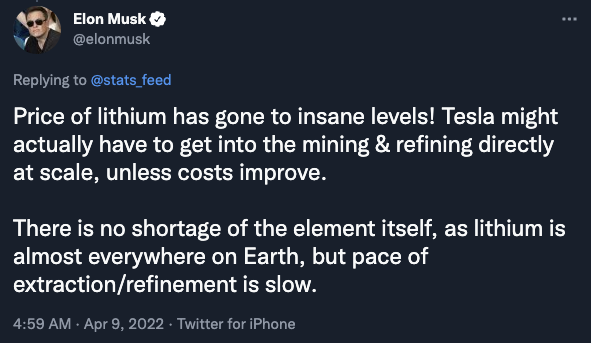 In the meantime, EV rivals are racing to sign deals with miners to secure their supply. The excitement in the sector has seen ASX-listed companies like Core Lithium (CXO), Sayona Mining (SYA), AVZ Minerals (AVZ) and Liontown Resources (LTR) rank among Superhero's most-traded companies this year. 
Other ASX lithium names include Pilbara Minerals (PLS) Allkem (AKE), Lake Resources (LKE) and Vulcan Energy Resources (VUL).
Rare Earths
Australia finds itself in a unique position to provide  rare earths to the rest of the world. Not only is the country home to world-class deposits, but due to geopolitical tensions, Australia has emerged as one of the favoured hedges against a quasi-Chinese monopoly on processing the minerals.
While rare earths refer to a specific group of useful minerals, the ones most applicable to EV production are the futuristic-sounding neodymium and praseodymium. Around one kilogram of these are required to produce the magnets within an electric engine. Rare earths demand meanwhile is forecast to double over the next six years.
Lynas (LYC) is by far the largest Australian producer but other ASX rare earths names include Arafura Resources (ARU), Hastings Technology Metals (HAS), Iluka Resources (ILU) and Vital Metals (VML).
Graphite
While graphite has been a mainstay in cars for a long time, it ranks as an especially crucial component in electric vehicles, standing in as an irreplaceable material to carry a charge within a lithium battery.
While the average EV requires around 66 kilograms of graphite, the demand can sometimes reach 100 kilograms. It makes graphite the most in-demand battery metal by weight with even hybrids demanding around 10 kilograms. 
Amid rising demand, Tesla made moves late last year to sign up graphite producers like Syrah Resources (SYR). Other ASX graphite names include Renascor Resources (RNU).
Nickel
A short squeeze combined with sanctions on Russia, one of the world's key producers of nickel, saw the price go haywire this year. Given an EV battery contains around 40 kilograms of nickel, the disruption has had major ramifications for EV-makers desperate to get their hands on the resource.
Nickel companies listed on the ASX include Independence Group (IGO), Mincor (MCR) and Jervois Mining (JRV). 
Cobalt
Last but certainly not least is cobalt, which makes up about 13 kilograms in some lithium ion batteries. However, whether or not that remains the case is yet to be seen. Due to its price volatility, political risks surrounding some of its overseas suppliers and other factors, manufacturers have been experimenting and designing batteries that are less reliant on the metal. 
Tesla batteries for example are composed of less than 5% cobalt with the company announcing plans to phase that out to zero. Yet at this point in time other automakers are still buying up.
ASX-listed cobalt companies include Jervois Mining (JRV), Cobalt Blue (COB), and Ardea (ARL).
Manganese
Cobalt's loss could be manganese's gain. As the former risks getting phased out, the latter is projected to replace it by teaming up with nickel in lithium batteries. The ensuing demand for manganese is forecast to grow by almost 10 times by the end of the decade. 
It creates a substantial new use case for manganese which traditionally has been used to harden steel. As the need for electrification grows, manganese has fast become a critical mineral for it with around 20 kilograms going into an EV battery. 
Again, Australian miners are lining up to provide the building blocks. Major miners like South32 (S32) have moved into manganese while other smaller names include OM Holdings (OMH), Euro Manganese (EMN), and Jupiter Mines (JMS).
Looking to trade commodities? Invest in Aussie shares for $5 and U.S. shares and ETFs for $0 brokerage (other fees may apply) with Superhero.
Make knowledge your superpower and up your skills and know-how with our news, educational tools and resources.