This analysis of Atlassian is part of Equity Mates Summer Series, proudly supported by Superhero. Listen to the podcast episode here.
In brief
Atlassian (NASDAQ: TEAM) designs, develops, licenses, and maintains various software products worldwide. It provides project tracking, content creation and sharing, and service management tools including include JIRA, Confluence and Trello.
Equity Mates take 
There are a lot of businesses around the world that might be considered boring. It's unlikely that accountants will ever be the most popular booth at a career fair. But amongst all of the businesses that could be considered boring, Atlassian is the one that holds the distinction of being labelled a "very boring software company" by the New York Times on the eve of their IPO in 2015.
We are loath to disagree with the New York Times, but here we must protest. Not only is Atlassian one of the most exciting companies Australia has ever produced. We'd go so far as to put it amongst Microsoft and Salesforce, as one of the best software businesses globally. Sure it's not making electric vehicles or sending rockets to space. But it is often the software behind many of these exciting businesses (literally, SpaceX and NASA are both users of Atlassian software). 
Also, we're creating a new rule here at Equity Mates, any company that has 10-bagged in the past 4 years can't be considered boring. 
Tell me about Atlassian 
Founded by two Australians that met at the University of New South Wales, Mike Cannon-Brookes and Scott Farquhar, Atlassian creates collaboration tools for software engineers and project managers. These tools have been used by the team that sent the curiosity rover to Mars and by Domino's every time you order a pizza. In fact, 83% of Fortune 500 companies use Atlassian products. 
Atlassian operates five key products:
Jira: where teams can plan and monitor project management

Confluence: allows teams to create and share documents and data

Trello: adds a visual component to help keep track of who is working on what and how far along they are

Bitbucket: helps teams create and share coding work

Jira Service Desk: a self-service portal that allows teams to quickly respond to customer issues
A number of key products, including Bitbucket and Trello, have been bolted on to the business via acquisition. In fact, over the past decade, Atlassian has made over 30 acquisitions and invested over $1 billion in mergers and acquisitions. Just some of the names include: 
2010: Bitbucket – a hosted service for code collaboration

2012: HipChat – instant messenger for workplace environments

2015: Hall – work chat company

2016: StatusPage – hosts pages updating customers during outages and maintenance

2017: Trello – a list-making, work management tool

2018: OpsGenie – generates alerts for helpdesk tickets

2019: Agilecraft – a strategic planning software available for scaling agile to the enterprise.

2019: Code Barrel – known for its "Automation for Jira" software, an add-on to automate and customise Atlassian's flagship project tracking software

2020: Halp – Tool that generates helpdesk tickets from Slack conversations

2020: Mindville – gives organizations a place to store and share information about all their assets and infrastructure across their whole business

2021: Chartio – cloud-based business intelligence and analytics solution that enables everyone to analyze their data from their business applications
One of the most impressive things about the Atlassian story is the sales model they pioneered. It is encapsulated by the company saying: We believe software should be bought, not sold. 
Traditional software sales were 'top down'. A senior sales representative would speak to the Chief Technology Officer and would sell software for the whole company. This was the world of Microsoft, IBM, Oracle etc. But Atlassian was on the other side of the world and didn't have the money to build a sales team. So instead, they pioneered a 'bottom up' approach to sales. They focused on creating products that solved problems for developers, with the view that if developers chose to use Atlassian software it would organically spread to other technical and non-technical teams that want to collaborate with the company's developer team. 
This sales model allowed Atlassian to scale with a very small investment in their sales team relative to their peers. It is also a model that has been followed by a number of successful software businesses since, including Slack and Zoom. 
Atlassian now has over 10 million monthly active users, across 200,000 customers in over 190 countries. A true Australian success story and one of the largest software businesses in the world. 
What about the industry?
The enterprise software industry is an incredibly competitive space. There are plenty of competitors to Atlassian – Microsoft, Google, GitLab, IBM, ServiceNow, Scrumwise, GitHub. They are all competing to make tools for teams to collaborate better, and many of these competitors do this as part of a much larger product offering. 
The good news is that the market is growing and companies are often customers of multiple platforms for different teams or use cases. Today, the average enterprise uses 288 SaaS applications, up 30% year-on-year. 
Like the majority of the enterprise software industry, Atlassian is moving away from the old days of server products and towards the cloud. They have set a 'big, hairy, audacious goal' of 100 million monthly active users on their cloud product (up from 10 million today). Atlassian has sized this as a $24 billion opportunity and that is the market that Atlassian and many of its competitors are chasing. 
Let's get to the numbers 
Share price 
The share price story with Atlassian is something to behold. Over the past 5 years, since 2016, the share price has grown from $27.49 to $444.50. That's a compound annual growth rate of 74% over 5 years. 
The share price has come off a little lately – amidst a general sell off across unprofitable tech stocks. Even after a fall of ~25% from October 2021, the share price is still up 48% for 2021. Today, Atlassian still enjoys a market capitalization of $86 billion, making it about a third the size of Salesforce and about two-thirds the size of IBM.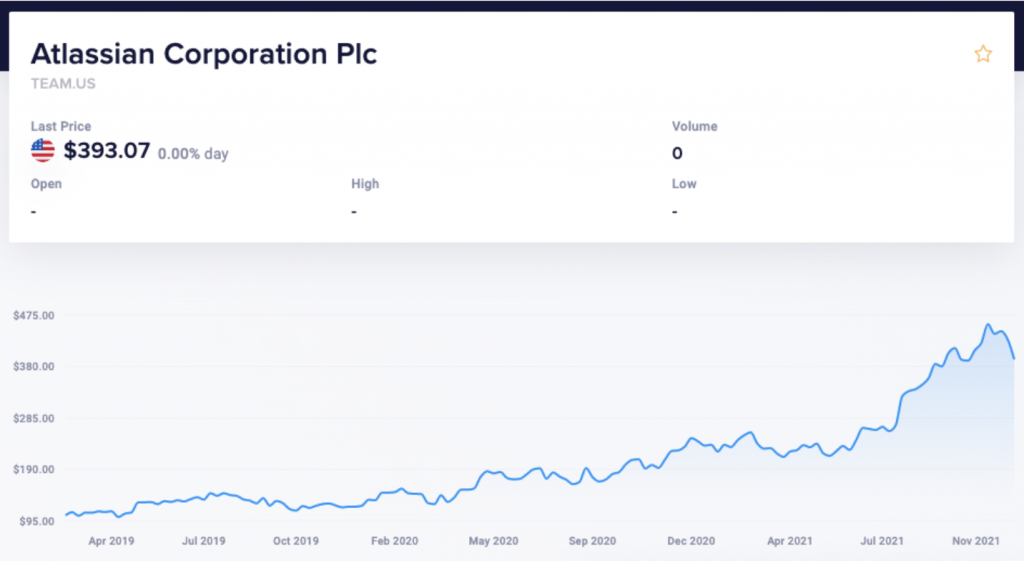 Revenue and profit 
In FY21, Atlassian brought in $2.1 billion in revenue. The company remains unprofitable, losing $700 million in the financial year. Investors would love to see the growth Atlassian has achieved over the past five years. In FY16, the software company did $457 million in revenue and this has grown at a compound annual growth rate of 36% over the past five years. 
What investors would not like to see is that Atlassian gets more unprofitable every year. Despite revenue expanding, the losses have extended each of the past five years. This is a hallmark of a business investing for growth and so investors would be expecting more revenue growth in the coming years (or we can summarise that some of these investments are not paying off…).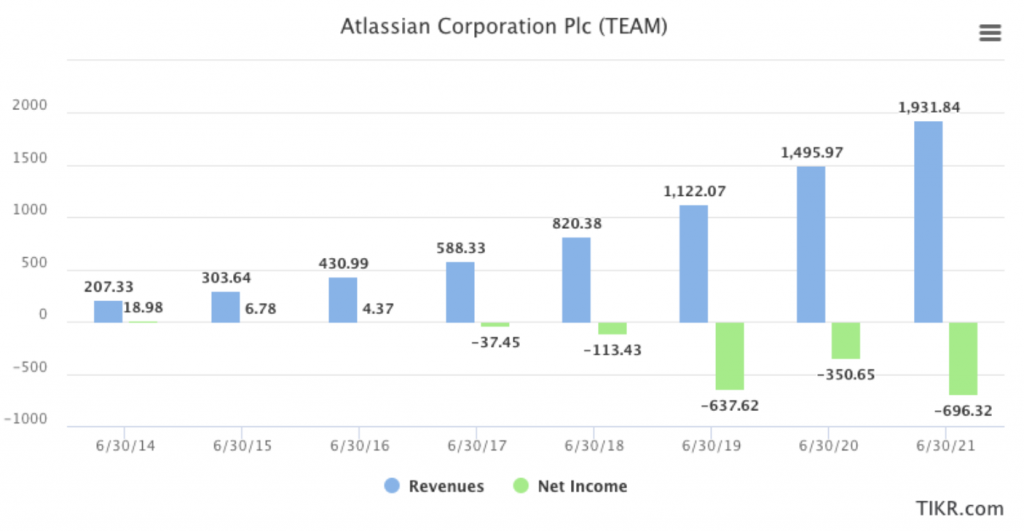 Source: TIKR.com
Rather than looking at profit, Atlassian looks at free cash flow. In FY16, the company generated $95 million in cash. By FY21, they have increased that to $500 million – a compound annual growth rate of 51%. While it may not be recognised as profit, this free cash flow is available to Atlassian to reinvest in their business, hire more staff and expand their product offering. For that reason, free cash flow is an important number to watch. 
The below chart shows Cash from Operations, which is slightly different to Free Cash Flow. Cash from Operations measures the cash generated from the company's core business – as you can see it has grown significantly and in line with Atlassian's revenue growth.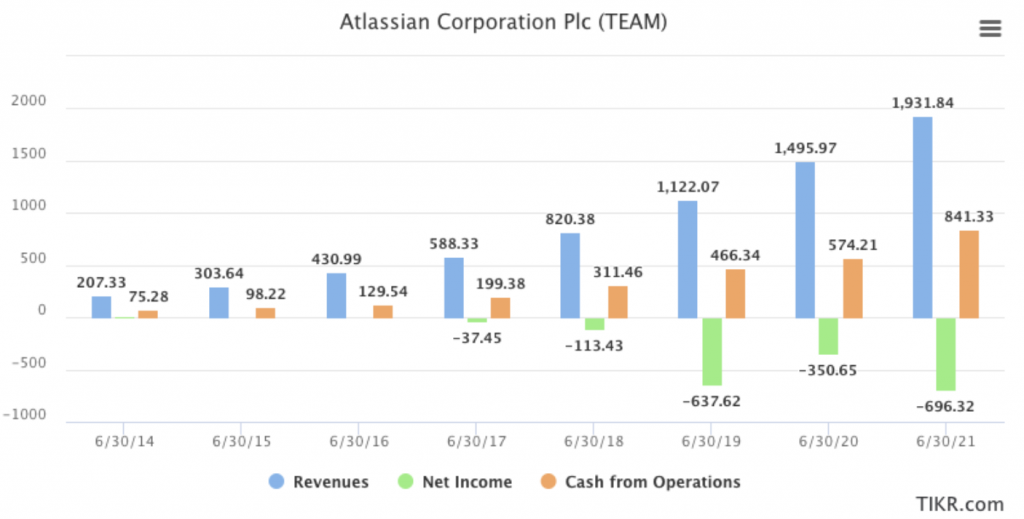 Final thoughts on Atlassian 
Atlassian's mission is to help unleash the potential of every team. And building software to help do this may not be the most exciting business, but it sure is a big one. From their homes in Australia to the offices of most large companies around the world, the Atlassian story is a true Australian success story. Mike and Scott and the first two Australian tech billionaires and Atlassian is rightfully recognised as one of the best software companies around the world. 
However, if you are looking at the company today, the focus isn't on the company's story to date. The question becomes what can the company do going forward. They are chasing a huge market but face plenty of competition to do it. 
Make knowledge your superpower and up your skills and know-how with our news, educational tools and resources.