This analysis of Beyond Meat is part of Equity Mates Summer Series, proudly supported by Superhero. Listen to the podcast episode here.
The brief
Beyond Meat, Inc., a food company, manufactures, markets, and sells plant-based meat products around the world, including beef, chicken and meatballs.
Equity Mates take
To fully understand Beyond Meat, we need to start with the problem.
The world's food system is far from perfect. While it is near miraculous that the world's agricultural productivity has been able to keep pace with population growth, it has not come without problems. These problems are particularly concentrated around the factory farming of animals, notably animal welfare, environmental harm (livestock farming contributes 18% of human produced greenhouse gas) and resource use (livestock takes up nearly 80% of global agricultural land yet produces less than 20% of the calories).
These problems have led to an explosion in consumers choosing to go vegetarian or vegan. While getting data on this can be difficult, one survey suggested that there has been a 300% increase in vegans between 2004 and 2019 and that vegans now account for 3% of the total US population.
Beyond Meat's mission is to facilitate the shift from traditional animal-based meat to plant-based meat. Founded in 2009, they set out to accelerate this transition by creating near-perfect replicas that look, cook and taste like animal-based meat.
Tell me about Beyond Meat 
Beyond Meat is well on their way to achieving this mission. They now offer a range of plant-based meat alternatives, including beef, chicken, meatballs, pork and sausage. Beyond has both a wholesale and retail channel for this product. On the wholesale side, they have partnered with some of the biggest restaurant chains to offer Beyond Meat products, including McDonalds, Yum (owner of KFC, Taco Bell and Pizza Hut), Pepsi, and Dunkin. On the retail side, Beyond sells their products direct to consumer through supermarkets and speciality retail stores.
The sustainability credentials of Beyond Meat products are impressive. A University of Michigan study found that a Beyond Burger patty required 99% less water, 93% less land, and 46% less energy than a quarter-pounder beef burger.
Beyond Meat recruited some incredible investors to go on the journey with them. Tyson Foods, America's largest meat producer, and former McDonald's CEO Don Thompson both invested. Bill Gates also invested after trying the Beyond chicken strips and reporting he couldn't tell the difference. At the time, Gates was quoted as saying, "What I was experiencing was more than a clever meat substitute. It was a taste of the future of food."
Bill Gates isn't alone. Plenty of survey data suggests that the majority of consumers are okay with the taste of plant-based meat (both from Beyond and its competitors).
What about the industry?
The worldwide plant-based meat market was valued at $5.6 billion in 2020, and is forecast to reach $14.9 billion by 2027. Beyond Meat isn't the only company working on plant-based meat alternatives, but it is the biggest. Beyond Meat has ~25% market share, and its biggest direct competitor, Impossible Foods, has ~4% market share.
Impossible Foods may be its biggest direct competitor, but Beyond's biggest competitor remains the meat industry. The plant-based industry is working to educate consumers on their product while also trying to achieve economies of scale to drive the price down. But, right now, plant-based meat is meaningfully more expensive. Numbers from the US:
Beef: $5/pound
Beyond Beef: $9/pound
Impossible Foods Beef: $11/pound
The other challenge is alternative meat substitutes, in particular cultured meat aka lab-grown meat. The number of lab-grown meat startups has exploded in recent years, led by companies such as GOOD Meat, Eat Just and Future Meat. This meat is produced from animal cells in bioreactors without the slaughter of an animal (for this reason you'll sometimes see this meat called 'no-kill meat'). Singapore was the first jurisdiction to allow the sale of cultured meat, after approving Eat Just's lab-grown chicken in late 2020.
This is an incredibly exciting development offering a no-kill, drug-free and cruelty-free alternative meat. Currently 130 million chickens and 4 million pigs are slaughtered every day for meat. Cultured meat offers an alternative way to produce meat. For plant-based meat companies like Beyond Meat, it is one of their biggest competitive threats.
If you look at the survey from the BBC below, it lists six key reasons why consumers are eating less meat. Those consumers that are concerned about animal welfare, the environment or concerned over antibiotics use would see cultured meat as a solution for these concerns.
If we were to ask Beyond, they would likely tell us there is enough market share to go around. There is space for both cultured meat and plant-based meat as more and more consumers change their eating habits away from traditional meat. Yet, right now they have a head start over cultured meat – they are on supermarket shelves and restaurant menus all around the world. If you were an investor in Beyond, you'd want to see them capitalising on this head start.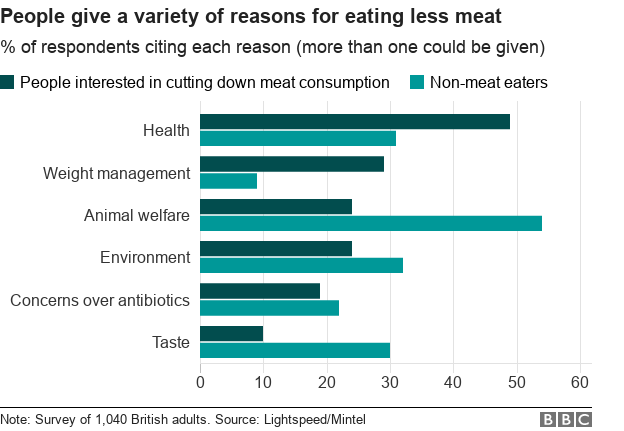 Let's get to the numbers 
Share price 
Beyond was one of the hottest IPOs in 2019. The company's share price more than tripled in the couple of months after listing and plant-based meat was the talk of the market. Since then, the share price has cooled off. It is down 68% from its 2019 all time high, and down 46% in the past 12 months.
However, it is important to keep in mind that the share price is only down ~2% from the price it IPOed at in 2019. Currently the company has a market capitalization of around $4 billion.
Revenue and profit 
Beyond's revenue growth has been nothing short of phenomenal. In 2016, Beyond earned $16 million in revenue and that has grown to $407 million in 2020. This is a compound annual growth rate (CAGR) of 125% a year! Incredible.
Despite this incredible revenue growth, Beyond remains unprofitable. The company lost a little over $50 million last year, its largest loss in the past 5 years (which is all the years we have data for).
Breaking Beyond's revenue up into quarters in the chart below, it is clear that the momentum has slowed around the ~$100 million per quarter mark. For potential investors, it will be interesting to watch where Beyond's quarterly reports to see if it continues to plateau or it can blow past ~$100 million of revenue in a quarter.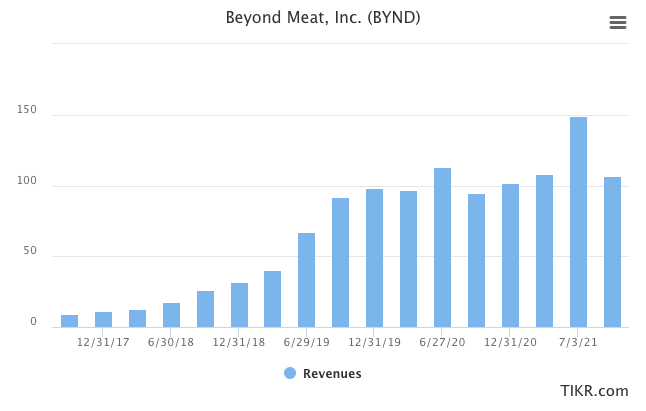 Final thoughts on Beyond Meat
Be it for personal health reasons, climate concerns or ethical questions over animal welfare, consumers around the world are questioning the amount of meat in their diet. Beyond Meat is trying to accelerate the transition by offering consumers an alternative that looks, cooks and tastes like meat. Their products are more sustainable than meat but come with a heftier price tag. The challenge for Beyond Meat, Impossible Foods and other plant-based players is two-fold. Firstly, establishing the plant-based category and secondly, winning market share in the category.
At the same time, other alternatives are being developed. Lab-grown meat has the potential to offer an alternative answer to consumers concerned about climate impact and the ethics of factory farming. While not fully commercialised, it is coming down the pyke quickly and the meat alternative space will get even more crowded. So as investors, the key question is, which company is going to win these customers moving away from meat? Beyond has the head start, and the best brand recognition, but will they be able to maintain and build on this lead?
Make knowledge your superpower and up your skills and know-how with our news, educational tools and resources.