This analysis of BWX is part of Equity Mates Summer Series, proudly supported by Superhero. 
Listen to the podcast episode with BWX CEO David Fenlon here.
The brief
BWX Limited (BWX.AU) develop, manufactures, markets, distributes, and sells natural body, hair, and skin care products in Australia, the United States, and internationally. The company owns the Sukin, Mineral Fusion, Andalou Naturals, DermaSukin, Life Basics, Uspa, Edward Beale, and Renew personal care brands.
Equity Mates take
You may not have heard of BWX, but we're confident you've used one of their brands. BWX is one of Australia's largest natural beauty brands and is the owner of the Sukin brand, the #1 natural skincare brand sold in Australian pharmacies. BWX also captured headlines recently after making a deal with Zoe Foster-Blake to acquire 50.1% of her skincare brand, GoTo. 
We love to see Australian companies taking on the world – Atlassian, Canva, Resmed, Treasury Wines. These companies are rightfully celebrated for their success in going beyond Australia and building world-leading businesses. Well add BWX to that list, because despite being founded in just 2013, BWX has built an impressive global business. Their brand Andalou Naturals is the #1 facial skincare brand in the US natural channel and brand Mineral Fusion is the #1 cosmetics brand in the US natural channel. 
Tell me about BWX 
BWX develop, manufacture, and distribute natural body, hair and skin care products in Australia and around the world. Their products fall under five key brands:
Sukin

Andalou Naturals

USPA

Mineral Fusion

GoTo
BWX has a two-sided distribution strategy. On one hand they have a traditional, bricks and mortar channel where they sell into retail stores. The company has recently inked deals with some of the biggest retailers in the world – Woolworths and Chemist Warehouse in Australia, and Walmart in Canada (not quite Walmart in the US yet!). 
On the other hand, BWX operates two eCommerce websites and also sell direct to consumers through their brand's websites. The two eCommerce platforms, Nourished Life and Flora and Fauna, sell third-party health and beauty products as well as BWX's own brands. The two websites have minimal overlap in customers (~13%) and SKUs (<20%) and offer customers products they wouldn't find in mainstream retail channels (across the two websites combined, 80% of the SKUs are not available in mainstream retail). 
What about the industry?
Globally, the beauty and personal care industry is huge. In 2020 it was worth $487 billion. As we all spent a little bit more time inside in 2020, the industry declined ~3% but that is expected to pick up again post-lockdowns. Expectations are that the industry grows at 3% a year between 2020 and 2025, with the Asia-Pacific region being the fastest growing region (but really, in what industry is that not the case?).
A key trend is the emergence of the natural and ethical beauty category. The category is expected to grow faster than the overall industry, estimated at 5% per year until 2025, compared to 3% for the overall industry. This is being driven by a number of factors – but most importantly is the consumer's growing awareness of what ingredients are in their beauty products and the effect they have on the environment. Consumers are moving away from brands that test products on animals or use inorganic ingredients. BWX have a portfolio of brands that satisfy this growing consumer preference. 
A second trend in the industry is the disruption the major companies are facing from small, personality-driven brands. The top 5 beauty and personal care players globally saw a combined 2% drop in market share between 2015 and 2020. Which may not feel like a lot, but it is still billions of dollars of annual revenue. This disruption is being driven by celebrities like Kylie Jenner in the US and Zoe Foster-Blake in Australia. It is relevant to note that both Kylie and Zoe sold their companies to larger beauty players and taking enough market share to be noticed. It is likely that the trend of celebrity-driven brands getting to scale and then being acquired by the larger beauty players will accelerate (see the number of large TikTokers that now have their own beauty brands). 
Let's get to the numbers 
Share price 
The story of BWX's share price is a story of trading relatively flat for the past 1 and 5 years. Over the past 12 months, BWX is up 12% but over the past 5 years, it is only up 7%. The share price chart below, thanks to Superhero, tells the story of the past 5 years.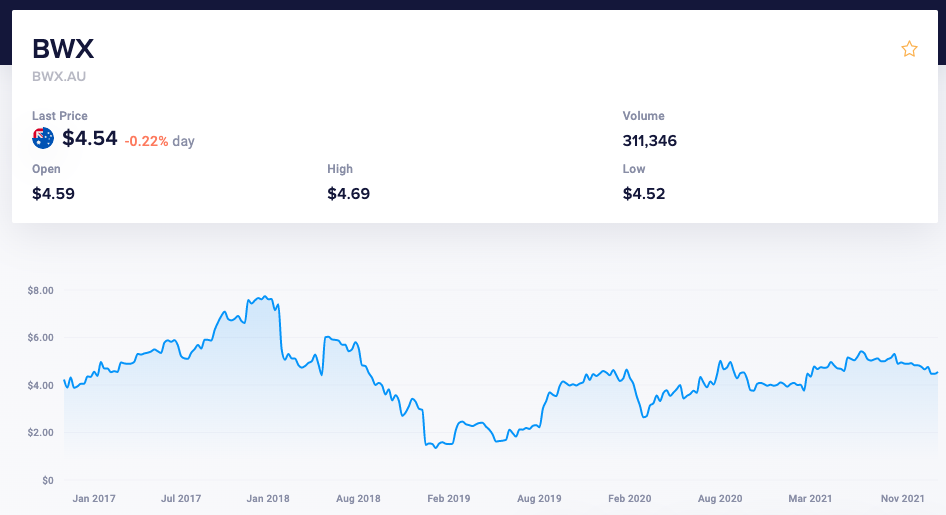 One piece of information that doesn't show up on the share price chart is that the company's number of shares issued has increased over the past two years. In 2019, the company has 124 million shares outstanding and this has increased to 160 million today. Based on BWX's current share price, that dilution is worth $160 million. 
Revenue and profit 
The share price may not have moved much, but revenue and profit are heading in the right direction. Revenue for FY21 was $194 million, up from $54 million in FY16 (a compound annual growth rate of 29%). Similarly, profit has been growing, coming in at $23.5 million up from $12 million in FY16. The fact that profit has been growing slower than revenue (CAGR of 29% for revenue v 14% for profit) suggests that as BWX is growing distribution (especially into traditional bricks and mortar retailers) their margin is being squeezed. This isn't surprising and would be expected as BWX scales up across the world. 
Turning to GoTo specifically, the numbers are impressive. Founded in 2014, GoTo delivered revenue of almost $37 million in FY21 and EBITDA of just under $12 million, representing a three year compound annual growth rate of 50% and 39% respectively. 
The respective profit margins of GoTo and BWX are worth noting. GoTo's margin is in the ~30% range while BWX's came in around 12%. While GoTo will face some margin squeeze as it scales, especially as it competes for shelf space in overseas retailers, that healthy profit margin offers BWX a real opportunity to generate profits to reinvest in the business as GoTo scales. 
Final thoughts on BWX
We love to see an Australian company find success around the world. BWX is building that story in a fast-growing category within a big industry. There is a lot to like. However, the health and beauty space is notoriously difficult. There is brutal competition for shelf space at major retailers and online, BWX is facing stiff competition from disruptive brands led by influencers with large and loyal followings. 
Make knowledge your superpower and up your skills and know-how with our news, educational tools and resources.