The Origins
All changed, changed utterly: A terrible beauty is born.
On 30th November, a company called OpenAI launched an artificial intelligence chatbot, called ChatGPT.
While not the first AI chatbot to be presented to the masses, its detailed and articulate answers across a wide variety of knowledge domains has seen it garner attention that other online services could only wish for. In just 5 days it amassed over 1 million users ; something that Twitter, Netflix, Slack and Airbnb took years to achieve.
OpenAI's strategic partnership with Microsoft, renewed in January 2023 with a $10bn investment and allowing the latter to become exclusive cloud provider has kicked off an "AI War" between US Big Tech firms.
In a response to OpenAI and Microsoft's opening gambit, Google hurriedly put together a presentation of its own endeavours at a Paris media event in February- unveiling its chat service called Bard.
The impact was positively Shakespearean tragedy. A lackluster event punctuated by a wrong answer and within a single day – $143bn was wiped off the market value of the company.
That's the difference in attitudes for a novel new tool from a new company that is prone to get things wrong and a major incumbent.
The Numbers
Back in December Google's management issued a "code red" over the rise of ChatGPT with CEO Sundar Pichai redirecting resources to focus on building out AI Products. Then in January, Google co-founder Sergey Brin requested access to the Google codebase that trains its natural language chatbot. This was widely reported as it is the first such request since he stepped down from his executive role at the company in 2019.
The company is not only calling on generals of old but has also mobilised the foot soldiers – a massive call to action internally is seeing employees asked to spend between two and four hours volunteering to write answer corrections and increase the quality of inputs back into Bard in order to improve the model.
It is literally taking a village to repair the damage of that botched preview of Bard and to protect Google's position as the search engine of choice for 8 out of 10 people worldwide.
While Google Search's lead over Microsoft's Bing looks insurmountable, that is based on the current status quo of internet search. AI Chatbots have the ability to change the game and with it how search is monetised in the future.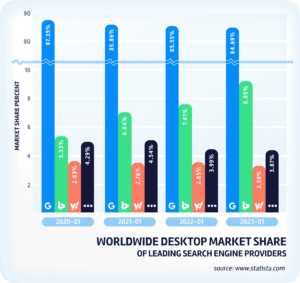 The Opportunity
Microsoft is not the only company that could benefit from a change in Google's search dominance as the revenue that Google generates just from Search alone represents 57% of the total revenue earned in 2022. A change in this earning stream means Google cannot competitively fund other initiatives  such as gaming, AR/VR and Google TV. This would allow Amazon, Apple, and Meta to steal a march in these areas.
They certainly will have learned a valuable lesson from the rushed unveiling of Bard.
For every 1% of Market Share that Bing can claw from Google translates to hundreds of millions of dollars in potential ad-revenue. Beyond that possible boost for Bing search, Microsoft's exclusivity deal with OpenAI provides a boost to Azure, its cloud computing service that could damage Google Cloud Platform (GCP).
The main immediate beneficiary however is a company called C3.ai (NYSE:AI). The investor frenzy for artificial intelligence, an announcement of ChatGPT integration and one of the best ticker codes on the exchange has seen its stock price soar 86% year-to-date and become one of the top traded US stocks in 2023 at Superhero.
The Challenge
Outside of the Microsoft and Google battle for AI is a myriad of companies increasing adoption of AI and machine learning (ML) technologies and practices.
Between them, Google and Microsoft, had around 10,000 AI and ML patents by the end of 2021. Chinese companies Tencent and Baidu have double that figure while individually, IBM, Samsung and Pingan have more than either of them.
Australian companies are looking to a wide range of other providers to help adopt AI – most recently with Westpac (ASX:WBC) unveiling a partnership with Amazon Web Services on generative AI and Coles (ASX:COL) use of both Microsoft technology and that of Finnish firm Relex Solutions for its ordering systems.
Telstra (ASX:TLS) has been partnering with Quantium (owned by Woolworths (ASX:WOW)) to use AI as part of its customer service, improving personalisation and identifying cybersecurity threats.
Management consultant company Gartner, predicts that by 2025 over 30% of marketing content will be AI driven, up from only 2% in 2022.
With over 800 AI Start-ups in Australia (source: Tracxn) the outlook for AI development and partnership is looking very promising.
The Future
For all these AI partnerships and the successful launch of ChatGPT we are still a long way off from perfection. The recent robo-debt scandal shows what happens when poorly designed and constructed automation is allowed to run its own show, while reports of some "hallucinations" coming from interactions with ChatGPT and other tools. These take the form of wrong assumptions not covered in its training data set to outright personality traits that confront users and even threaten to hand them into the authorities in one instance.
The specter of 'Skynet' has started to appear in the mainstream media in their AI coverage as these traits and flaws grow, yet the fear of an AI tool gaining sentience and passing judgment while possible is not probable as governance and ethics around AI usage ups the pace. The European Union could start this by unveiling a law on AI set to come into force in 2023
This challenge provides a little breathing space for Google to play catch up and combined with its leading market share of mobile operating systems via Android it has a fighting chance.
First blood goes to Microsoft and OpenAI but there are many rounds to go.
Trade Microsoft from $0 brokerage (other fees may apply) on Superhero or read more Deep Dives here.
Make knowledge your superpower and up your skills and know-how with our news, educational tools and resources.