One of Hollywood's great success stories, Walt Disney and the company that bears his name changed cinema forever. Creating some of the most iconic characters and films of all hime, this is the story of how a bankrupt animator built a creative powerhouse that 100 years on is still innovating and still entertaining the world.
The origins of Disney
Walter Elias Disney moved to Los Angeles in 1923 with just $40 to his name. An advertising cartoonist by trade and an aspiring animator, Walt teamed up with his brother to set up a modest production studio in the back of a Hollywood real estate office originally called The Disney Brothers Studio.
Their early films, animated and directed by Walt, were mainly based on the adventures of a young girl named Alice as well as a 'Lucky Rabbit' named Oswald. Losing the rights to Oswald in a business dispute with the distributor, Disney began experimenting with a new character in 1928.
Mortimer Mouse, later renamed Mickey by Walt's wife, premiered in Steamboat Willie, the first cartoon with synchronised sound. A huge hit, Disney would use the success of Mickey and his subsequent shorts to create one of the first full-length animated features in Snow White & The Seven Dwarves. This was followed closely by Pinocchio, Fantasia, and Bambi, marking the beginning of one of the most iconic film studios in history.
Finding further success with live-action films like Mary Poppins, Walt would go on to win 32 Academy Awards during his lifetime (more than anyone else before or since), with his films, theme parks, resorts and eponymous company living on well beyond the man himself. 
The company staved off decline and began making more mature films with the founding of Touchstone Pictures (Pretty Woman, Pearl Harbour) and the acquisition of Miramax (Goodwill Hunting, Chicago) in the '80s and '90s. These were followed by a greater focus on franchises with the acquisitions of Pixar (2006), Marvel (2009) and Lucasfilm (2012). 
But while film remains the cornerstone of Disney, the company has expanded into theme parks, cruise lines, broadcasting (the Disney channel, ESPN), streaming (Disney+), Broadway musicals, merchandise and more. In doing so, it has cemented itself as one of the most unique and diverse companies in the world. Don't believe us? Here's one attempt at illustrating all of the businesses Disney owns.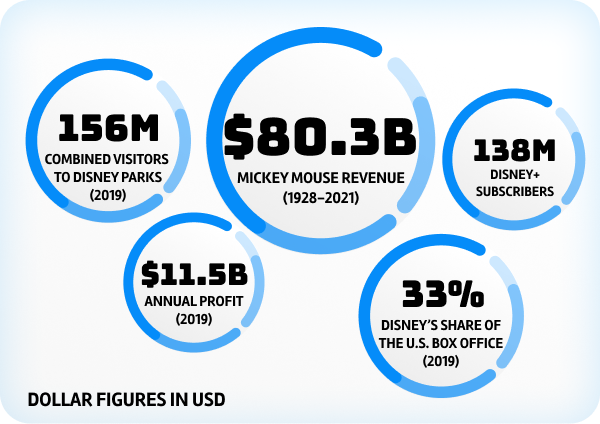 Did you know? When Disney+ launched in November 2019, the company hoped to have 50 million subscribers within six years. It blew past that target in its first six months.
The opportunity
There are few parts of the entertainment industry today in which Disney isn't a market leader.
Take film for example. Disney either made or has since acquired the studios involved in six of the top ten highest-grossing films of all time. Year to year, it pockets between 25 and 33 cents of every dollar produced at the U.S. box office and more than its fair share of the global one.
Then there's streaming. If you consider it owns both Hulu and ESPN as well as Disney+, the company entertains over 200 million paying subscribers. Growing far quicker than its number one competitor, it is conceivable that Disney could take the streaming crown from Netflix within the next couple of years. That's without counting its television arm which covers free-to-air channels in the States across ESPN, National Geographic, ABC News, FX and others.
But while Disney is well-known for its content, its tourism arm is equally magical. Operating out of six different countries, Disney's 12 amusement parks are among the world's most recognisable and most-visited. It also operates five dedicated cruise ships with two more coming by 2025. Oh, and it is about to open its second private cruise destination in the Bahamas, spanning 700 acres, as it enjoys pent-up post-pandemic demand.
This is all before you throw in its large merchandise and toys, radio, music, publishing, advertising, retail and gaming arms – and even a venture capital fund. Phew.
All in all, Disney has broadly been able to grow its business year-on-year, tripling profits in the decade since 2009. While COVID largely disrupted the business, shutting down cinemas and its parks and pushing it into the red in 2020, Disney is forecast to post a profit of around US$8 billion in 2023.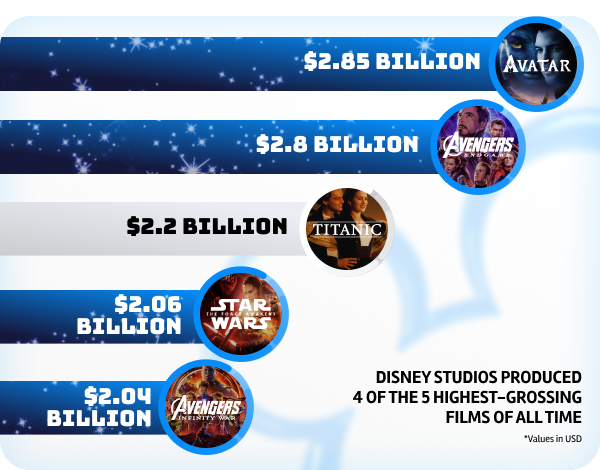 Did you know? In 2008, Disney began opening English-language schools in China. It was a guerrilla strategy to introduce kids to the Disney universe. Unable to reopen during the pandemic however, the company pulled the plug on the idea in 2020.
The challenge
For a business as established as Disney, the challenge is to continue expanding, diversifying and growing – and stave off competitive threats along the way.
Take its acquisition of Marvel for example. The buy ranks as one of the best deals in modern entertainment – generating over $US20 billion profit within a decade. But it is also a reminder of the scale that Disney is operating on. 
Standalone films no longer seem enough to move the dial. Disney's winning formula is found in building entire creative universes from which it can roll out lucrative franchises (think Star Wars) and monetise every manifestation of it, from toys to toothpaste.
It's vital that Disney keeps buying, building and maintaining this IP without boring fans or diluting a brand's value. Just as important is the need to deliver products in the medium consumers want them. Some early forays into NFTs and crypto show Disney is cognisant of the opportunities and risks that new technologies present. 
Taking a step back, Disney remains heavily dependent on the North American market although it is doing more to broaden its audience. Its controversial 2020 film Mulan was a "love letter" to China while others like Encanto and Coco have helped endear it to the fast-growing Spanish-speaking world. 
Disney's image is also undeniably premium. During boom times, it has enjoyed enormous pricing power, much to the chagrin of parents who are paying almost 4,000% more than 50 years ago. But as high inflation sets in and belts tighten, will families forgo their annual trip to the Happiest Place on Earth?
The future of Disney
There are very few businesses that look and feel like Disney, with a near 100-year-old-brand that transcends industries and continues to shine. Certainly none have remained as relevant over multiple generations as Disney continues to entertain the great grandchildren of its first fans.
Often when investors look at a business they might ask themselves if it will still be around in ten years. Will it be bigger? Will it find new industries and customers and continue to grow? These questions hit a little different when assessing a company as large and iconic as Disney.
What its future looks like is, of course, unknown. But if Disney can keep on building new creative universes, there's no reason why it can't keep capturing the world's imagination for years to come. 
Disney will report its second quarter earnings tonight. Trade Disney stock with Superhero for $0 brokerage (other fees may apply) and read more company Deep Dives here.
Superhero does not provide financial advice that considers your personal objectives, financial situation or particular needs. Any advice provided is intended to be of a general nature only.
Make knowledge your superpower and up your skills and know-how with our news, educational tools and resources.