This analysis is part of Equity Mates Summer Series, proudly supported by Superhero. Listen to the podcast episode here with HiPages CEO Roby Sharon-Zipser.
In Brief
HiPages is an Australia-based online platform that connects qualified tradies and consumers in order to resolve difficulties that come with organising and coordinating home improvement jobs by facilitating communication, payment, and ratings and recommendations.
Equity Mates take
The residential trade sector is a huge part of Australia's economy, but there's not a lot of ways to invest in it on the stock market. The average Australian household engages seven tradies a year, and across the economy over $85 billion is spent on home improvements. All up the residential trade sector contributes almost 6% to Australia's GDP.
Yet, the best opportunity to invest in the sector was probably Bunnings (via Wesfarmers). Which is why HiPages is a compelling company.
The challenge for HiPages is changing customer behaviour. Think about the last time you engaged a tradie. If you used an online portal, you'd be in the minority. More than 70% of Australians still engage tradies through word-of-mouth or by contacting a previously used tradie. 
If HiPages can successfully aggregate tradies and customers on their platform, that will be a powerful thing. Two sided marketplaces – think Uber, Airbnb, RealEstate.com.au, Car Sales – are tough to build but are even tougher to disrupt. 
Tell me about HiPages 
Founded in 2004, HiPages specialises in home improvement advertising services for tradies. The market encompasses renovations, repairs, maintenance, new builds and installations. This is facilitated by the HiPages website – hipages.com.au – where a new job is posted every 26 seconds, allowing the 135,000 trade and building professionals to bid and source new work. 
In 2021, HiPages launched Tradiecore, a Software-as-a-Service (SaaS) product that helps tradies optimise their business, helping with everything from providing quotes and invoicing, through to scheduling jobs. This product extension will allow HiPages to help tradies source jobs (hipages.com.au) and then manage them end-to-end (Tradiecore). 
What about the industry?
The tradie economy is large and HiPages have only captured a small percentage of it. The below figures from a company presentation show how much of the market is not centralised on their platform. 
The big opportunity for the industry is to change the habits of the Australians that still engage tradies through word-of-mouth or by contacting a previously used tradie. 
HiPages isn't the only business looking to build a platform to centralise buyers and service providers in the tradie economy. ServiceSeeking.com.au, Service.com.au, Airtasker.com, Oneflare.com.au are just some of the platforms that are competing for the listing of home improvement jobs. As with most of these markets, they are winner take all (or winner take most). Think Seek, Carsales, REA Group. That is because tradies want to use the platform with the most jobs, and customers want to list on the platform with the most tradies. So eventually both sides converge on one platform. HiPages, and all of their competitors, are competing to join the likes of REA, Seek and Carsales as the dominant two-sided marketplace in their field. 
Let's get to the numbers 
Share price 
Since listing in late 2020, HiPages is up ~50%. The company has a market cap just shy of $500 million.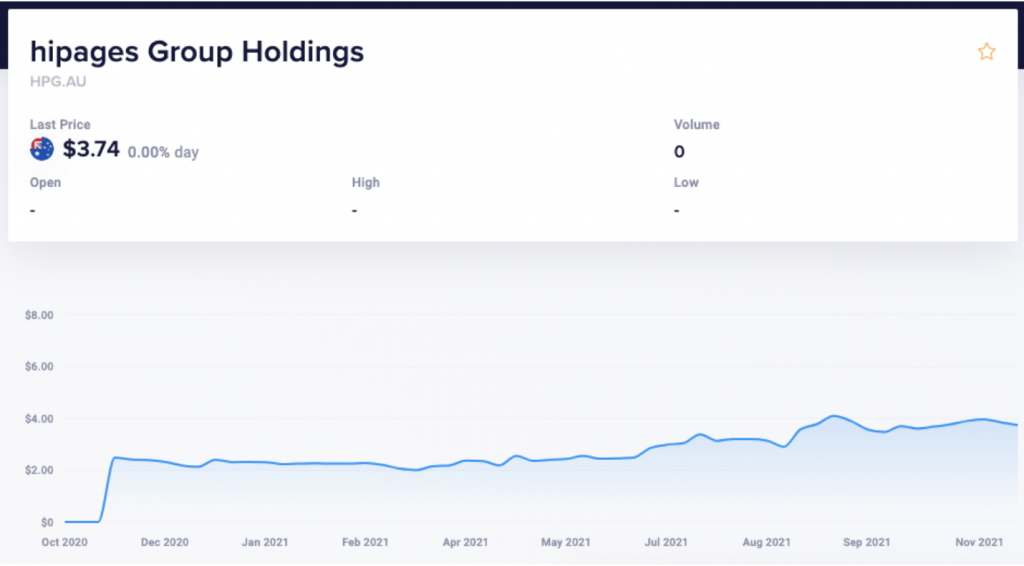 Revenue and profit 
HiPages delivered $56 million in revenue in FY21, up from $44 million in FY18. As you can see from the chart below, 2018, 2019 and 2020 were all pretty flat years before a 19% jump up in 2021. Investors will be watching to see what happens in 2022 – hopefully 2021 was a sign of things to come.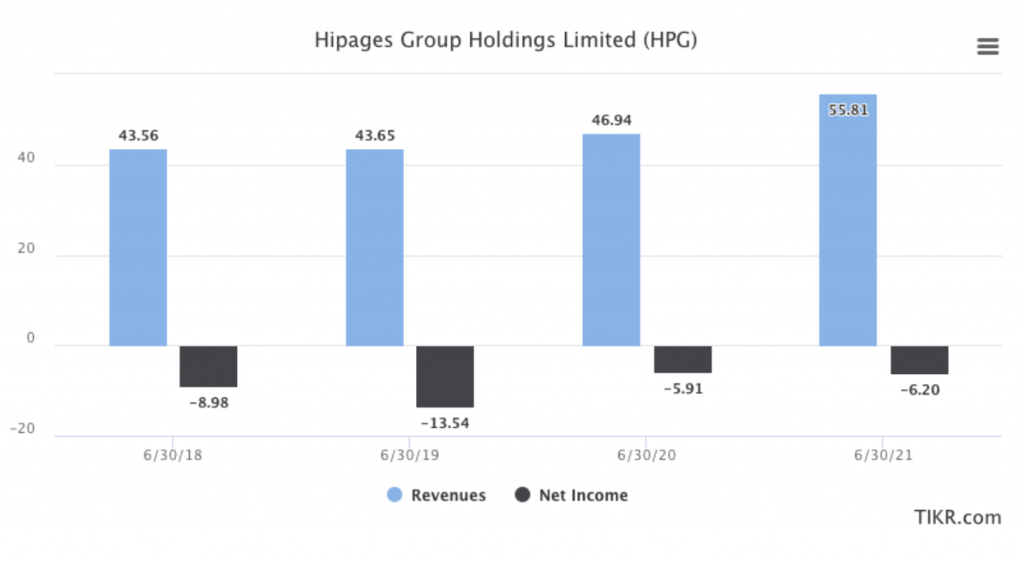 Final thoughts on HiPages
The potential for a two-sided marketplace that aggregates the tradie economy is huge. One question we have, all of the other traditional classified ads were moved online and centralised in the early 2000's – car sales on Carsales, home listings on RealEstate.com.au, job listings on Seek – why not tradespeople? Perhaps there is something about the market dynamics of the tradie economy that don't lend themselves to aggregation online. 
However, if HiPages were able to centralise this service, it would be a profound shift. The ability to clip the ticket on an industry that makes up 6% of Australia's GDP is one thing. But it would also open up a range of adjacent businesses Hipages could push into (i.e. think how REA Group are getting into mortgage broking). Hipages (and their competitors trying to do something similar) are companies to watch. 
Make knowledge your superpower and up your skills and know-how with our news, educational tools and resources.