No one — especially not Google or Apple — can ignore the tech success story that is Microsoft (MSFT). This pioneering tech giant has defended its dominant market share for nearly 50 years.
How does it do it? With a management team that's always keeping an eye on the latest innovations, a B2B business model that knows how to woo rational decision-makers and a business strategy that's as steady as a rock in a sea of change.
From the essential Office 365 to Bing's newest AI companion, Microsoft knows it's on to a winning strategy.
Let's take a closer look at Microsoft Corporation's (MSFT) sustained share price growth, including its revenue streams, product diversification and strategic acquisitions.
A snapshot of MSFT and its share price
It's almost impossible to imagine the world without Microsoft. No Windows, no Office Suite, no Internet Explorer… and no Xbox. That's because the company has been on the cutting edge of the tech industry since it was founded in 1975 by Bill Gates and Paul Allen.
Today, Microsoft is the 2nd most valuable company in the world (as of April 2023), with a market cap of over US$2 trillion. 
The company's share price has been on a steady upward trajectory over the past few years, with some occasional dips due to broader market jitters.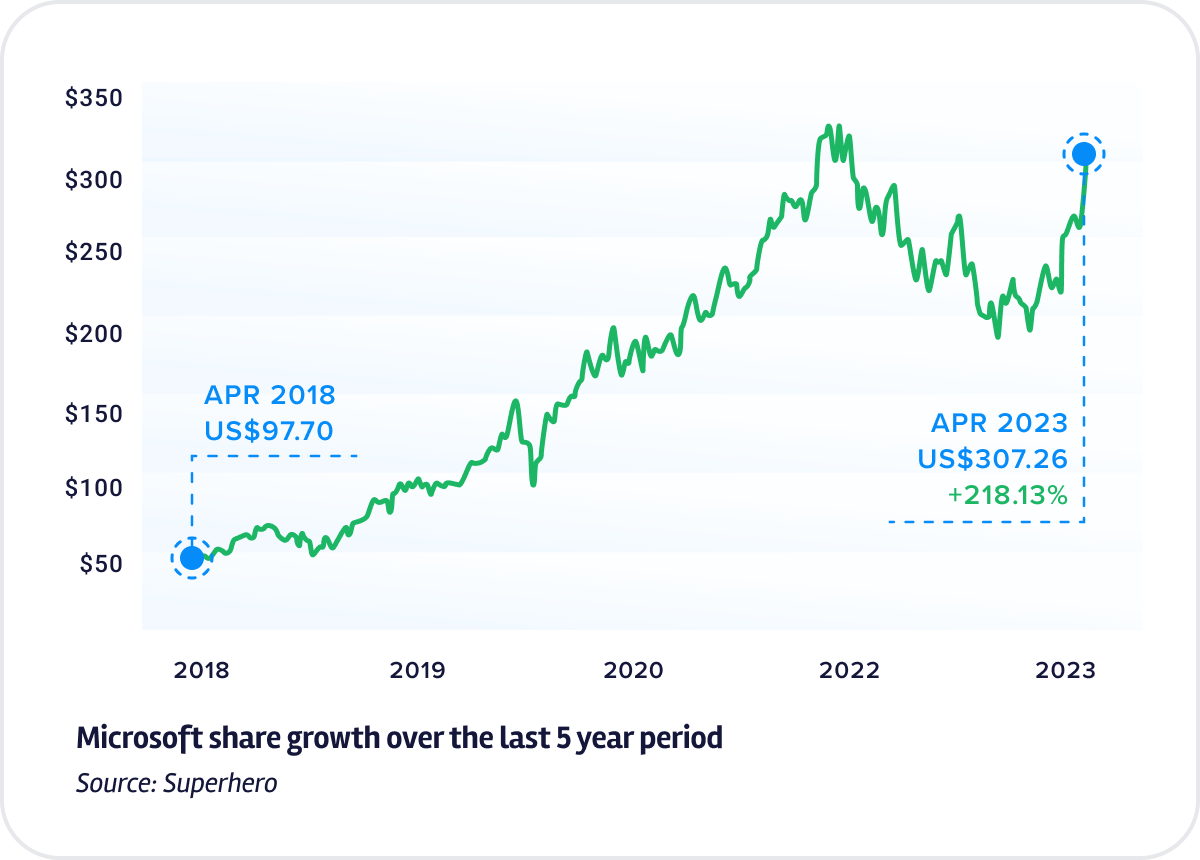 Its performance puts it in a league of its own among established companies, tripling in just five short years. So, what's behind Microsoft's enduring share price?
1. Microsoft is always looking to diversify its revenue streams
We all know Microsoft for its flagship Windows operating system and Office productivity tools. But did you know that those products are no longer the main breadwinners for the company?
These days, Microsoft generates a considerable portion of its US$198 billion annual revenue by providing cloud services and other software to businesses.
Why? The company's shift towards a B2B model has allowed them to capitalise on the reliability and predictability of businesses' purchasing patterns — compared to the more fickle and emotionally-driven buying behaviour of consumers in the B2C market.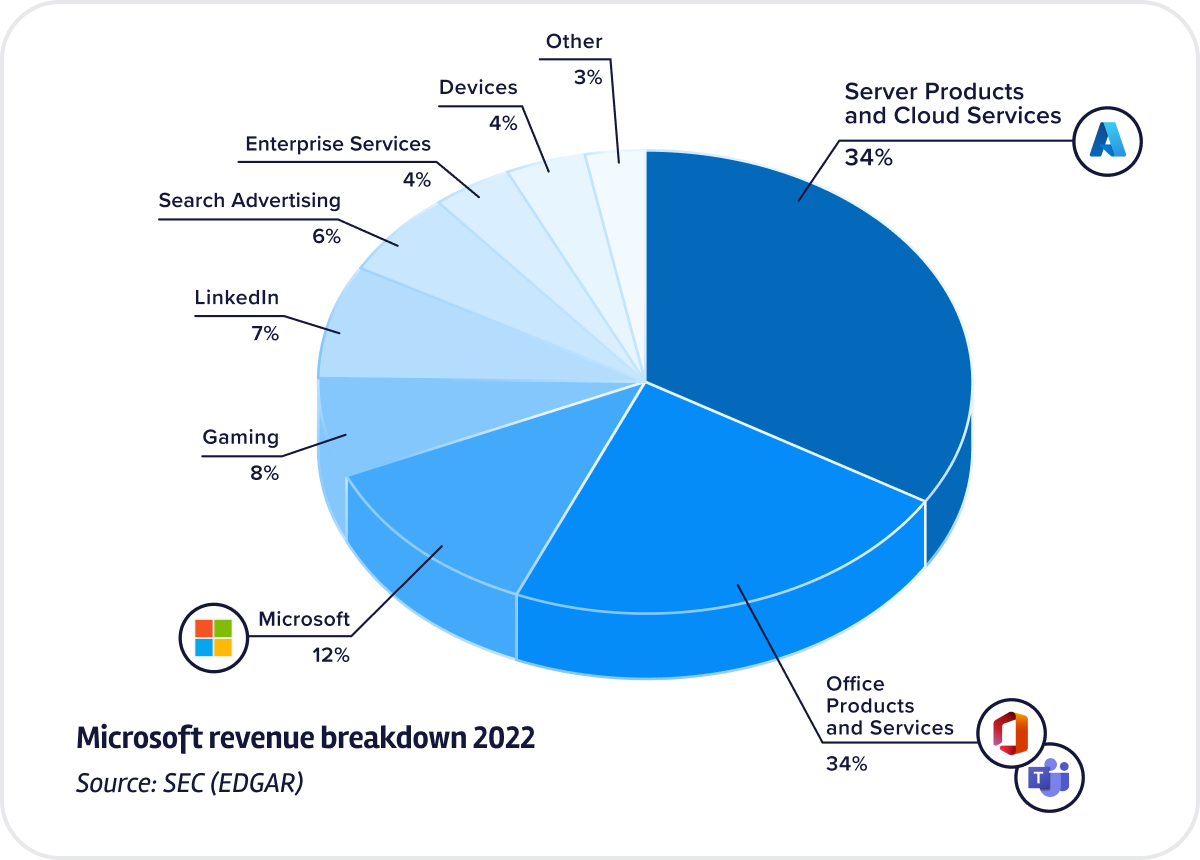 Of course, there's one sizable exception to Microsoft's focus on business customers: gaming. And with US$16 billion in revenue (8% of its total revenue), it might explain the company's ongoing efforts to acquire video game publisher Activision Blizzard.
Should regulatory approvals fall in Microsoft's favour, the world of gaming could become an even bigger source of revenue than its beloved Windows platform.
2. Management is strong, and acquisitions are savvy
Have you heard of the old saying, "bet on the jockey, not the horse"? Well, behind every great company is a team of great leaders.
Enter Microsoft's CEO Satya Nadella. Since Nadella took the reins in 2014, the company has undergone a dramatic transformation, shifting its focus towards some of the biggest emerging opportunities in tech. 
Nadella has also made some savvy acquisitions, like LinkedIn (US$26.2 billion) and GitHub (US$7.5 billion), that have added fuel to the fire and helped keep Microsoft's momentum strong.
It's no wonder The Drucker Institute gave Microsoft the top spot on its list of 900 best-managed U.S. companies just last year.
3. It has bigger fish to fry
As we mentioned earlier, a focus on B2B products and services has proven lucrative for Microsoft.
But not all businesses are created equal in the company's eyes. Large companies are among the most highly sought-after customers for Microsoft. Why?
Well, not only do these companies typically spend more money on Office and Windows licences, but they also require more complex software and IT infrastructure to operate smoothly.
Think about it: when a company grows beyond a certain size, it's essential to have a shared platform for communication and document-sharing. Backend servers are needed either on-site or in the cloud. 
On top of that, software solutions become necessary to handle data storage, data governance and analytics needs.
To boil it down, Microsoft understands that serving larger enterprises comes with unique demands and complexities. 
By catering to these needs, it can tap into a highly lucrative market and blow the smaller or more innovative fish out of the water.
4. Its customers are incredibly sticky
Microsoft has built an economic moat by making its products familiar and accessible to as many consumers as possible.
By doing so, Microsoft can increase the likelihood that those consumers will choose its products when they enter the workforce, potentially leading to more enterprise customers down the road.
A timeline of Microsoft's biggest B2B swings
If you still think Microsoft is nothing but a legacy tech company, let's see how these four strategies we mentioned have played out over the years.
2010
–
Microsoft realises two can play at this (cloud computing) game
Almost everyone knows that Amazon Web Services (AWS) is the biggest name in cloud computing. But in a market that's been growing 14% year-on-year, Microsoft knows there are plenty of fish in the sea.
Even more interestingly, Microsoft's Azure division has outpaced the market. (Its annual revenue is 2.5x what it was 5 years ago.)
With its multi-decade relationships, Microsoft has been well-placed to help existing customers make the shift from on-site servers to the cloud.
2011
– Office ascends to the cloud to take on Google Workspace
Microsoft took its legacy Office product to the cloud so that Google didn't have a monopoly on collaborative document sharing… and it paid off big time. 
Here are some stats worth chewing on:
345 million people are currently using Microsoft Office 365 — and those are all paid seats.

Microsoft Office 365 generated over US$63 billion in revenue in 2022.
The suite includes popular productivity tools like Word, Excel and PowerPoint, as well as cloud-based services like OneDrive and SharePoint. While Google Suite is a popular alternative, many established businesses prefer Office 365 for its robust feature set and compatibility with legacy systems.
2017
– A budget version of Slack steals market share
How did Microsoft Teams outmaneuver Slack, the disruptive force in organisational communications? (Hint: with its unbeatable distribution strategy.)
The company leveraged bundling and discounting to incentivise initial product adoption — effectively making Teams cheaper than Slack for anyone already using the Office 365 suite. Then, Microsoft gradually increased the cost of its suite over time, securing its market dominance.
2022
– Microsoft stays ahead of the curve with Bing's ChatGPT
Chatbots are taking the world by storm.
So on February 7, Microsoft capitalised on the ChatGPT hype by integrating the advanced language model into Bing. ​​The move forced Google to sit up and take notice, as Bing suddenly became a serious contender in the search engine race. 
And while its 100 million daily active users don't quite match up to Google's estimated billions, Google's still rushing to work on Bard's poem-writing skills.
In fact, Alphabet Inc. shares have suffered hits recently as Samsung revealed it was considering replacing Google Search with Bing as the default search engine on its smartphones.
Now, Microsoft is getting to market first with the release of Copilot: a riff on its generative AI product for businesses, introducing GPT-4 into Office 365. "Sorry, not sorry," says Microsoft.
Key summary
Microsoft is no dinosaur. It has been continuously evolving its core products over time to integrate the latest technology.

Being in the right place, at the right time, is critical to getting a share of the pie in emerging product segments. (It helps to have deep pockets to buy or build.)

Microsoft will pay big bucks for an acquisition, but often it's for something that's already been validated by the market.
Superhero was born out of the need to make investing affordable and accessible for everyone. With flat $5 brokerage on ASX-listed shares and $0 brokerage on Wall Street shares (other fees may apply), our customers enjoy some of the lowest prices available. Create a free account and start trading in minutes.
Superhero does not provide financial advice that considers your personal objectives, financial situation or particular needs. Any advice provided is intended to be of a general nature only.
Make knowledge your superpower and up your skills and know-how with our news, educational tools and resources.