How Lithium became the most sought after mineral in the world
The Origins
High School chemistry was hard. That is, until the rare day that the teacher takes out a bunch of jars and the bunsen burner.
"Now class, this is Lithium. It gives a red smoke when it is burnt!"
For most that was their first introduction but it has a rich and diverse history – starting as a grease for aircraft engines during World War II, a drug to treat bi-polar disorder, a key component in nuclear fusion missiles during the Cold War and finally the battery technology we know it as today.
The key driving factor for this latest change is the rise in Electric Vehicles (EV).
Each modern EV requires a battery that contains around 8-10kg of processed lithium, and with the surge in demand and production of EVs worldwide there is a massive demand for this element.
Australia has risen to that challenge, becoming the largest producer of lithium, providing half of all lithium mined. Increased demand has driven lithium prices up, 400% in 2021 and 152% in 2022 as China's Covid-19 lockdowns provided a temporary break in demand.
This in turn has led listed Australian lithium mining companies to become very popular with investors.
The Numbers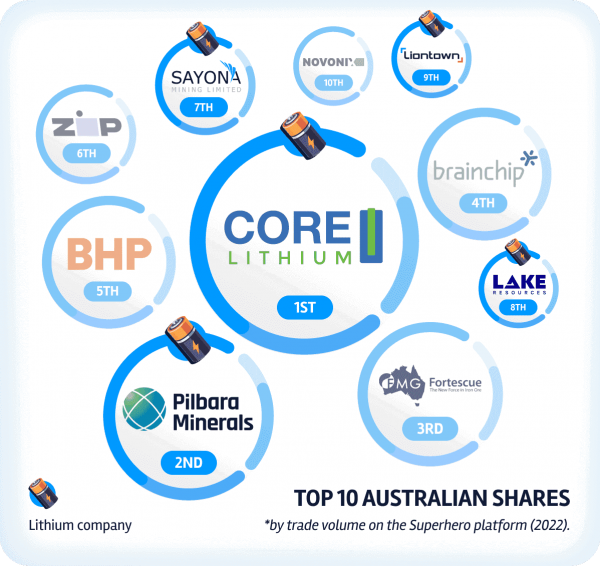 The Opportunity
The major challenge of this entire Lithium-EV chain is that Lithium is not naturally occurring. It requires processing of either spodumene or carbonite deposits to be used in battery technology
While Australia is the world's largest producer of lithium (around 50%) it lags behind in terms of processing capacity. This means that lithium mined in Australia has to be transported from mines to ports and then onto other countries for processing. To give an example of the logistics involved, Core Lithium (ASX:CXO) in January 2023 made its maiden shipment of lithium from it's Finniss Mine in the Northern Territory after receiving a tender for the order back in October 2022.
In October 2020, the Australian government sought to address this imbalance by launching the Modern Manufacturing Initiative (MMI) to support collaboration and scale-ups. Pilbara Minerals (ASX:PLS) has used this to launch two joint ventures – one with Calix Limited (ASX:CLX) on a decarbonisation process and another with Posco, a South Korean steel company to process lithium hydroxide.
These JVs and more like them could turn Australia into a world class mining and processing centre for lithium.
The Growth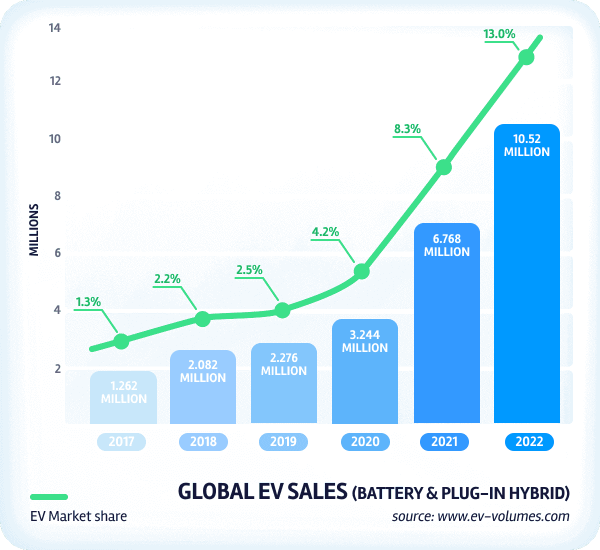 The Challenge
All great innovation comes from a rivalry – competing city states in medieval Italy gave rise to the Renaissance, Microsoft X-Box and Sony Playstation drove video gaming to new heights. Lithium batteries have their own nemesis in the form of hydrogen-powered cars.
Toyota Motors – the world's second largest automobile manufacturer has been the main pusher of this alternative to EVs, introducing the hydrogen powered Mirai in 2014 and working on newer models. They have also partnered with BMW to produce hydrogen zero-emission cars by the middle of this decade.
The competitive advantage offered is longer driving distances and shorter charge times and the backing of such a large automobile maker has provided much needed motivation for EV producers to offer an alternative.
Whether Toyota can find the winning formula is another matter and recent announcements suggest they may have decided to pivot to EVs.
Time will tell whether it is too little too late. Either way, Australia stands to gain as it also has an abundance of hydrogen to produce.
The Future
The growth in EV sales will continue to drive demand for lithium and the potential for increased adoption as consumers make the conscious decision to get away from petrol and diesel vehicles, where infrastructure investment allows, will mean that there will be a sustained market for lithium that can be mined. Increased partnership between producing and consuming countries will increase, the German Chancellor Olaf Scholz was in Chile and Argentina last week to sign a agreements for lithium mining cooperation.
The key challenge for Australian miners will be the rising costs of production, especially if they go after lithium contained from the bottom of the sea as well as the need to invest heavily in increasing production capacity – the predicted uptick needed to meet demand in 2050 is 5x the current limit.
Trade the lithium and mining sectors from $0 brokerage on Superhero or read more Deep Dives here.
Make knowledge your superpower and up your skills and know-how with our news, educational tools and resources.