Lululemon is today one of the most valuable apparel brands in the world with some analysts making parallels to Nike. Here's what you need to know about the athleisure company you can't escape.
The origins of Lululemon
Activewear is now so ubiquitous that it's difficult to remember that it wasn't always a pillar of women's fashion. 
It certainly wasn't in 1997. Taking his first yoga class back then, entrepreneur Chip Wilson looked around and saw that the clothing being worn around the studio was hardly practical. Women and men would often wear old, thin, loose-fitting clothes that often impeded, rather than assisted with, their practice.
Having previously designed snow and surf gear, the Canadian was already familiar with the kind of material that moved with the body. Now he just needed to repurpose it.
Wilson got to work transforming his Vancouver design office into a yoga studio at night. Not only did the classes help pay his rent but the instructors could rate Wilson's samples by the breathability and flexibility of each garment.
While the company focused on the burgeoning yoga trend, Wilson positioned Lululemon's products as premium women's clothing from the get-go. He found a ready market. By 2012, Lululemon was making more money per square foot of store space than almost any other retailer in America (Only Apple and Tiffany & Co. topped it).
Today, it's almost impossible to walk through a park or city centre without seeing the Lululemon logo walking (or running) around.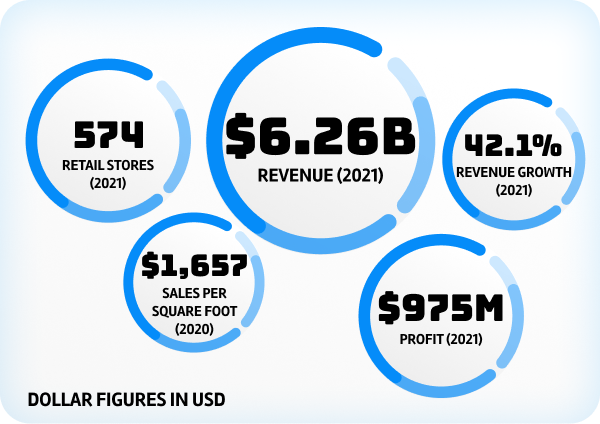 Did you know? By 2012, Lululemon was making more money per square foot of store space than almost any other retailer in America (only Apple and Tiffany & Co. topped it). 
Lululemon's opportunity
While the category of clothes may not have existed two decades ago, the athleisure market is expected to double by the end of this one to surpass US$660 billion globally.
Lululemon in turn is looking to expand its product range and capture untapped markets, targeting specific activities like hiking, tennis and golf. In doing so it is increasingly going up against outdoor brands like North Face and sportswear giants like Adidas.
It's even designing the 'first ever' shoe made specifically for female feet, creating yet another product women didn't know they needed.
But it might actually be the male market that Lululemon is most excited about. You might be surprised to know that menswear already represents a full-third of revenue and is its fastest-growing market segment: sales grew by 61% last year (versus 37% for women). 
While the brand is huge in North America, the brand has signposted its commitment to cracking the Chinese market (the number of yoga studios on the mainland has tripled since 2016). Over the next five years, Lululemon also wants to make inroads into the Asia Pacific and Europe, beginning with Spain and Italy.
The brand is – like everyone else – also trying to launch a subscription model. By segmenting its loyalty program into free and paid tiers, the company is trying to leverage the popularity of the brand into a recurring revenue stream it can depend on.
Free subscribers will get exclusive and early access to products and events while paid ones could be wrapped in with a Mirror home gym subscription, Lululemon's answer to the Peloton. Almost a second business, Mirror sets the company up to evolve an entire fitness arm.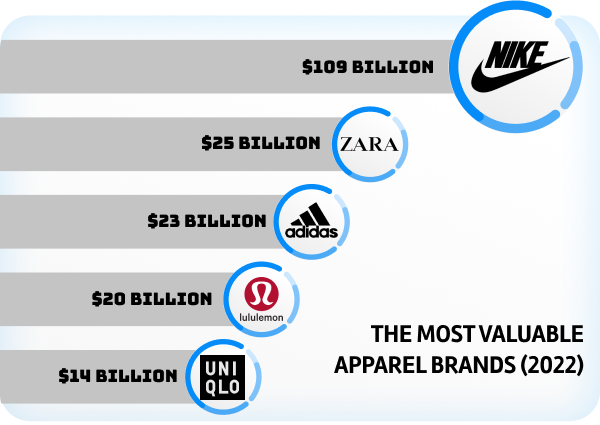 Did you know? When branding his company, Wilson reportedly tested 20 different names and 20 different logos on 100 people. The logo that was eventually picked came from 'Athletically Hip', a Lululemon alias that didn't make the cut.
The challenge
Lululemon's success to date can be put down to creating premium products that consumers gravitate towards. While different fitness trends encouraged us to sweat, social media – and Lululemon's embrace of influencers – firmly prioritised looking good while doing it.
Work from home and a sudden urge to get outside only helped tilt consumer preferences further towards the brand. But as we get out and about, those trends are normalising. One look at the disappointing sales of the Mirror is enough to know the home fitness market isn't what it used to be.
More to the point: as the U.S. looks to be headed into a recession, can Lululemon keep us buying expensive track pants?
Certainly its sales haven't been greatly impacted yet by rising costs and inflationary pressures, with its affluent customer base likely less sensitive to economic fluctuations. Certainly they've never been treated to discounting or promotional pricing. 
But not even Lululemon is immune from a recession and if push comes to shove, consumers may simply make do with cheaper brands or old clothing. 
The company may have already started working on a solution. This year it created a second-hand market. Customers can simply trade in their old clothes for store credit which in turn allows the company to sell pre-loved products to a more price-conscious group. Importantly, it does so without diluting the value of the brand – and the company gets to make two sales on a single item.
The future of Lululemon
Nike didn't invent the sneaker but, honestly, it may as well have. By building one of the most instantly-recognisable brands in the world, the Swoosh drives consumers to spend more money on shoes that aren't technically a lick better.
In that sense, there are certainly parallels between Nike and Lululemon. Just like Nike convinced people to spend hundreds of dollars on joggers, Lululemon convinced women they needed $140 leggings.
While the latter isn't there quite yet, it has rapidly built a US$34 billion company out of a carefully crafted image. It intentionally markets itself to 'aspirational' individuals called Ocean and Duke (yes, really) and is leveraging its brand loyalty into new products and markets. If it can keep growing, there's no reason Lululemon couldn't go beyond apparel and build its own fitness empire.
Just how far do you think Lululemon can stretch itself?
Trade Lululemon (LULU) on Superhero for $0 brokerage (other fees may apply). Read more company Deep Dives here.
Superhero does not provide financial advice that considers your personal objectives, financial situation or particular needs. Any advice provided is intended to be of a general nature only.
Make knowledge your superpower and up your skills and know-how with our news, educational tools and resources.