This analysis of Resmed is part of Equity Mates Summer Series, proudly supported by Superhero. Listen to the podcast episode here and learn more about investing here.
The brief
ResMed is a global leader in sleep technology, sleep medicine and non-invasive ventilation products treating apnea, insomnia, snoring and other respiratory conditions.
Equity Mates take
Warren Buffett has the famous quote, "If you don't find a way to make money while you sleep, you'll work until you die". Well this business has cracked that challenge. Resmed makes money while the world sleeps. It is on the forefront of helping the world sleep better with devices to treat sleep disorders, in particular sleep apnea. 
For those that are not familiar with sleep apnea, it is one of the most prevalent and under diagnosed sleep disorders globally. It is a sleep disorder in which pauses in breathing or periods of shallow breathing occur more often than normal. It disrupts normal sleep, meaning those affected experience sleepiness or feeling tired during the day and if left untreated, it can lead to serious health problems such as high blood pressure and heart trouble. 
It is estimated that 1 in 15 people suffer from sleep apnea – about 900 million people globally, of which about half of those suffer from severe sleep apnea. Importantly, the majority of sleep apnea remains undiagnosed and untreated. The US is the most developed OSA (obstructive sleep apnea) market, but estimates are that only 20% of cases have been diagnosed. In Europe, estimates are that only 5% of those suffering have been diagnosed. So, firstly, if you think you need it, it might be time for you to book in for a sleep test. But, secondly, it also creates a big opportunity for companies like Resmed and their competitors to grow awareness of sleep apnea and expand the addressable market. 
Tell me about Resmed 
Resmed was founded in 1989 in Australia, but quickly moved to the United States. In 1990, the company relocated to San Diego in California, where it has been based ever since. Founded by Peter Farrell, the business remains led by the Farrell family with Mick, Peter's son, taking over as CEO in 2013. 
The company started with the invention of a machine that helped people breather easier and sleep better. Today it continues in that vein, albeit with slightly more advanced machines. The company operates three key segments:
Sleep apnea: Cloud-connected Continuous Positive Airway Pressure (CPAP) machines, equipment and digital health technologies used to treat sleep apnea

Respiratory care: Cloud-connected ventilators, portable oxygen, and digital health technologies used to manage chronic obstructive pulmonary disease (COPD) and other respiratory diseases

Software as a service (SaaS): A network of out-of-hospital healthcare management solutions designed to help providers deliver more personalised care, measurable results and improved health outcomes
Today, Resmed operates in over 140 countries and is dual-listed in Australia (on the ASX) and America (on the NYSE). The company is included in both Australia's ASX 200 index and America's S&P 500 index. 
One of the best business models in the world is the 'razor and blade' business model pioneered by Gillette. Basically one item is sold at a lower price in order to lock customers into an ecosystem and have them buy consumable supplies to use the original item. For example if you buy a Gillette razor, you'll keep buying Gillette razor blades. Or another example is when you buy a printer and then have to keep buying that company's ink and accessories. 
Well, Resmed operates a similar business model. They sell devices and then masks and other consumables that are used with the device. As you can see from the pie chart below (on the left) Resmed splits out their revenue from devices and consumables (masks & other).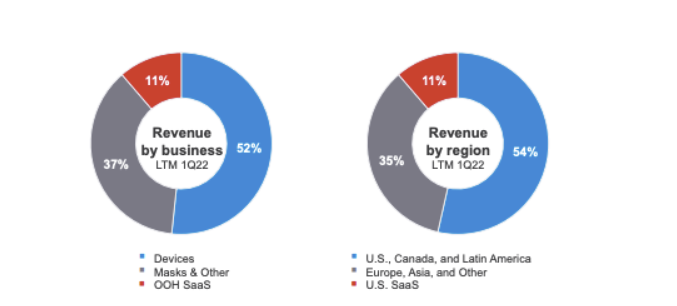 Source: Company Presentation
What about the industry?
Globally, the CPAP market was $3.3 billion in 2019 and is expected to grow to $4.5 billion in 2024. 
Resmed operates in a global duopoly for the sleep apnea market. Together with Phillips, they supply 90% of the sleep apnea devices globally, mainly continuous positive airway pressure (CPAP) machines. 

Let's get to the numbers 
Share price 
An important thing to note with dual-listed stocks is the currency differences. The chart below is the ASX-listed Resmed stock (listed in Australian dollars). If you find Resmed stock trading at ~$250 a share, you haven't found a really expensive version of the stock. You've just found the Resmed stock listed on the New York Stock Exchange (and importantly, listed in US dollars). 
Importantly, both ASX-listed and NYSE-listed shares are for the same company. So it is just personal preference which you invest in (both are available on Superhero). One thing to keep in mind is the additional tax and reporting requirements if you invest in the foreign stock. 
Over the past 5 years, Resmed is up over 300% and has a market capitalization of $36 billion USD.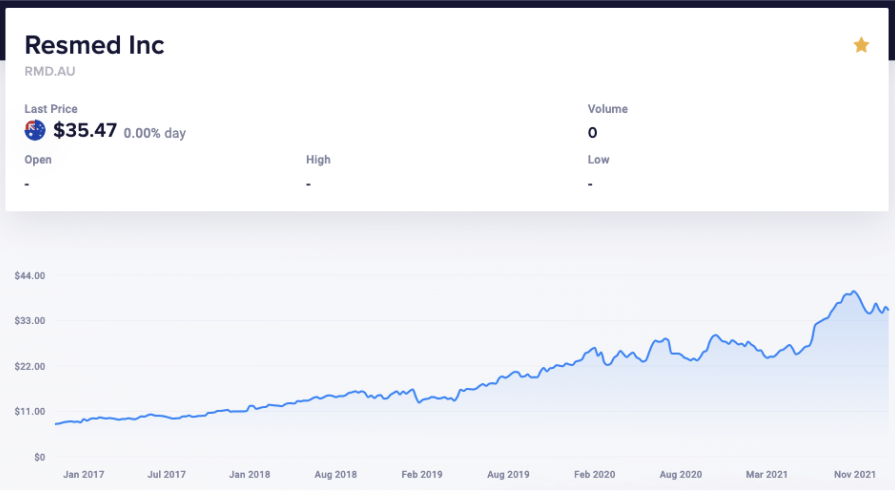 Revenue and profit 
Despite the company being over 30 years old, it is still growing revenue quickly. Between FY16 and FY21, revenue has grown at a compound annual growth rate of 12% – rising from $1.8 billion to $3.2 billion. In that same period profit has grown slower, at a compound annual growth rate of 6%.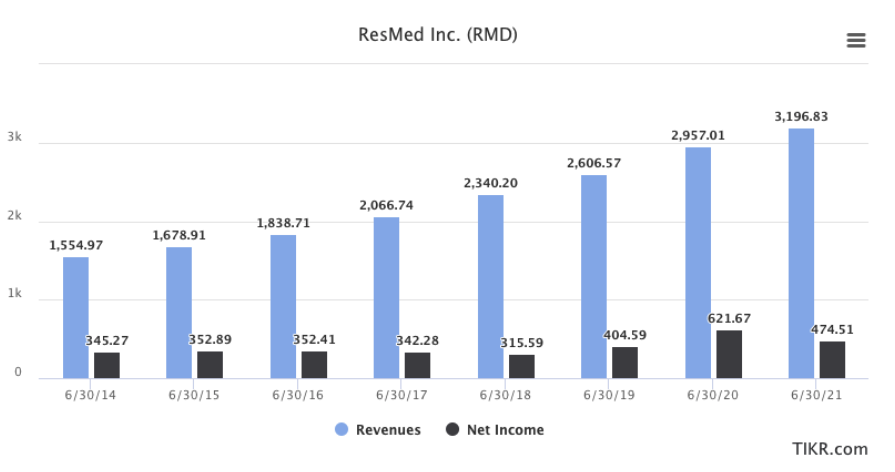 It is interesting to note that Resmed trades on a price-to-earnings ratio of ~75, indicating that the market has serious growth expectations in the coming years. However, 6% a year growth will take a long time to justify such a high price-to-earnings ratio. 
Part of the reason that investors are willing to pay so much for Resmed, is just how consistent it has been. If we zoom out on the revenue and profit chart, and look back to 2005, we can see just how consistently Resmed has been able to growth its revenue and profit year after year.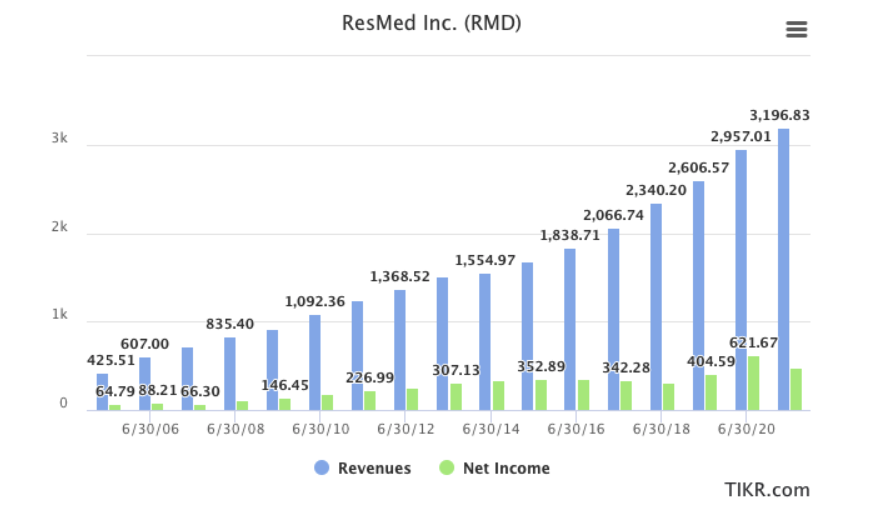 Final thoughts on Resmed
Resmed is an incredible Australian success story. Alongside CSL and Cochlear, it is one of the Australian health businesses that have taken the world by storm. And, despite being over 30 years old, it has so much potential. Sleep apnea remains incredibly underdiagnosed. If more and more people become aware of the sleep disorder and get a sleep test, then Resmed will be able to continue growing as the market gets larger. 
Resmed has ambitions to double the amount of patients it helps by 2025. In 2021, they helped 130 million people. In one of their recent earnings presentations, Resmed presented its mission is to change 250 million lives in 2025. If Resmed is able to achieve this, they'll likely change some of their investor's lives in the process as well. 
While we love to see an Australian success story and applaud their ambition, it is important to note that there are a few competitors in this space. Resmed may have been the leader in this category for a long time but that won't mean a lot if Phillips, Fisher & Paykel Healthcare or any other competitor comes out with a better device. 
However, if they are able to keep their market leadership position and expand the market with more people getting diagnosed with sleep apnea (and these are two 'ifs'), then the 'razor and blade' business model should keep Resmed's revenue consistently grinding upwards for years to come. 
Make knowledge your superpower and up your skills and know-how with our news, educational tools and resources.