Spotify has been at the coal face of a changing music industry for more than a decade, pioneering streaming and amassing hundreds of millions of listeners along the way. 
The origins of Spotify
Twenty years ago, the music industry faced its greatest challenge yet. The arrival of broadband internet meant households could suddenly stream, download and pirate music quickly and easily from the comfort of their own homes.
The rapid explosion of illicit sites like Limewire and The Pirate Bay led a couple of Swedes, Daniel Ek and Martin Lorentzon, to wonder how they could create a better, legal alternative.
"You can never legislate away from piracy," Ek said in a 2010 interview. "Laws can definitely help, but it doesn't take away the problem. The only way … was to create a service that was better than piracy and at the same time compensates the music industry – that gave us Spotify."
To be clear, Spotify hasn't been a silver bullet for the industry's many issues – plenty point out the shortcomings of its model. But consider Spotify's reach today and it's undeniable that the service has changed the way the world listens to music.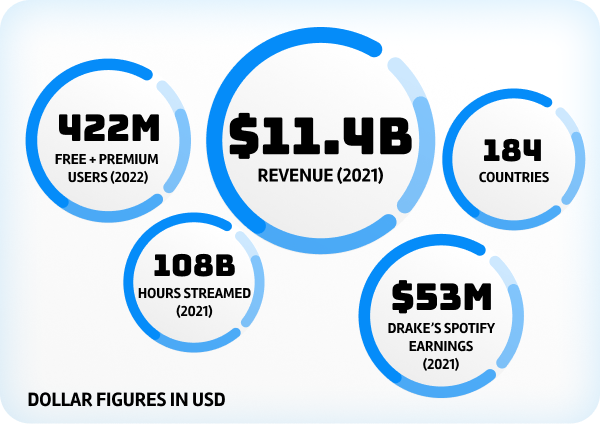 Did you know? Before he founded Spotify, Ek was the CEO of torrent software giant µTorrent. His critics argue his role means Ek once enabled much of the music piracy he now claims to be stamping out. 
The opportunity
Spotify has carved out a major lead in its field, with more than twice the number of paid subscribers as its closest rival, Apple Music. 
A major part of Spotify's strategy is podcasts. While a major artist can rack up a billion streams, most release new material sporadically. That's not the case for podcasts with creators almost certain to publish new content weekly to a waiting audience. A greater catalogue of work not only means more air time to serve ads but also more incentive for users to regularly return to the platform.
Unlike music, the rights to podcasts can also be monopolised. While Taylor Swift's catalogue can be played from any service, Spotify has begun to buy exclusive access to your favourite shows and personalities. With a considerable head start, Spotify is in prime position to splinter the market and pursue a 'winner take all' strategy – Apple's podcast numbers have flatlined. 
Increasingly Spotify is also looking to engage users in different ways.The recent purchase of Heardle is the platform's first attempt at gamification. With millions of active players, the music quiz acts as both an acquisition tool (pushing players to Spotify) and a channel to discover new tunes.
It builds on the success of its community ethos, allowing playlists to be easily curated and shared between users. At the same time, Spotify's unique Discover algorithm ensures it drip feeds a constant stream (cough) of songs you'll love.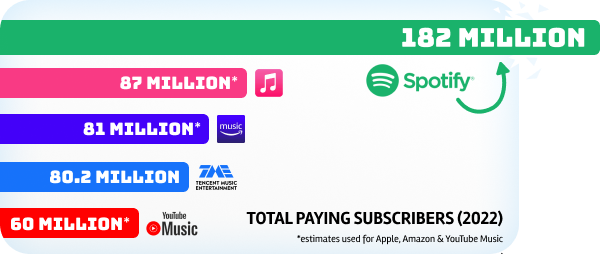 Did you know? 'Shape of You' by Ed Sheeran is the most popular song on Spotify, having received nearly 3.2 billion plays since it was released in 2017.
The challenge
While Spotify has put daylight between itself and its largest rivals, Spotify is very slowly losing market share. Of particular concern is how effectively YouTube is winning over Generation Z listeners as Spotify's Millennials continue to age. 
Likewise Spotify will need to see off the potential threat of social media platforms which still control video elements of the industry and are increasingly taking a bigger piece of the pie. For example, the likes of Drake and Dua Lipa, amongst Spotify's biggest earners, are attracting Instagram audiences in the hundreds of thousands as they take their live concerts elsewhere. 
Others say viral hits are now dependent on the TikTok algorithm. Parent company ByteDance meanwhile is snapping up licensing deals with record labels like Sony.
Spotify meanwhile faces intense competition outside of popular music. Idagio has successfully cornered the classical music scene. Others like Anghami (NASDAQ: ANGH) are building regional and linguistic strongholds in international markets, making it more difficult for Spotify to crack international markets. 
Finally, Spotify's own weaknesses could leave it vulnerable to disruption. Limited revenue opportunities for smaller artists make it deeply unpopular within the music industry. Criticism of streaming more broadly and the rapid development of new tech could one day produce another new wave of solutions that could do to Spotify what Spotify did to CDs before it.
The future of Spotify
Music streaming is worth an estimated US$35 billion, with streams now responsible for 85 cents of every dollar of revenue. The pace of growth has been enormous as smartphones make music portable and companies like Spotify supply free or paid access.
As the streaming service of choice, Spotify pockets a 30% cut of a rapidly growing pie, sharing the remainder with rights holders. 
Having already captured the largest market share, Spotify is now experimenting with new revenue streams. By allowing artists to sell merchandise direct to fans and marketing NFTs and exclusive artist access, Spotify's goal is to become the first fully-integrated music marketplace with streaming just one product of many. 
Speaking at the company's Investor Day last month, Ek laid out Spotify's ambitious 10-year plan. Its target? To generate US$100 billion worth of annual revenue within a decade. For reference, Meta made US$120 billion last year. To achieve the milestone Spotify will need to grow its business by 9x, acquire millions of more streamers and readily find new ways to monetise the music industry.
The plan is not the first time Ek has exhibited hubris. In 2010, he claimed Spotify would one day be worth "tens of billions of dollars". Within just seven years, he was proved correct. Can he do it again and take the company to the next level?
Make knowledge your superpower and up your skills and know-how with our news, educational tools and resources.