Henry Ford didn't invent the car but, as far as his time period was concerned, he damn near perfected it. 
The self-taught inventor began building his own horseless carriages out the back of barns in the dying days of the 19th century. Convincing investors to back him to make them on a commercial scale, he founded two car companies that fell over in quick succession. 
It didn't discourage Ford who doubled down and began building racing cars. Their success helped kickstart his third and final venture in 1903, the Ford Motor Company. Raising the minimum wage and pioneering an efficient assembly line, this one was destined for success. 
With Ford envisioning a "cheap motor car" for the masses, the company rolled out the T-Model in 1908. Within 15 years, it would represent a full half of all the cars on American roads. 
He used his profits to expand operations to 20 different countries and buy back his company and become the sole owner of the world's largest automobile company (his family still controls 40% of voting rights today).
One century later, Ford may no longer be the biggest but Ford remains one of the most iconic names in the auto industry and is still a force to be reckoned with.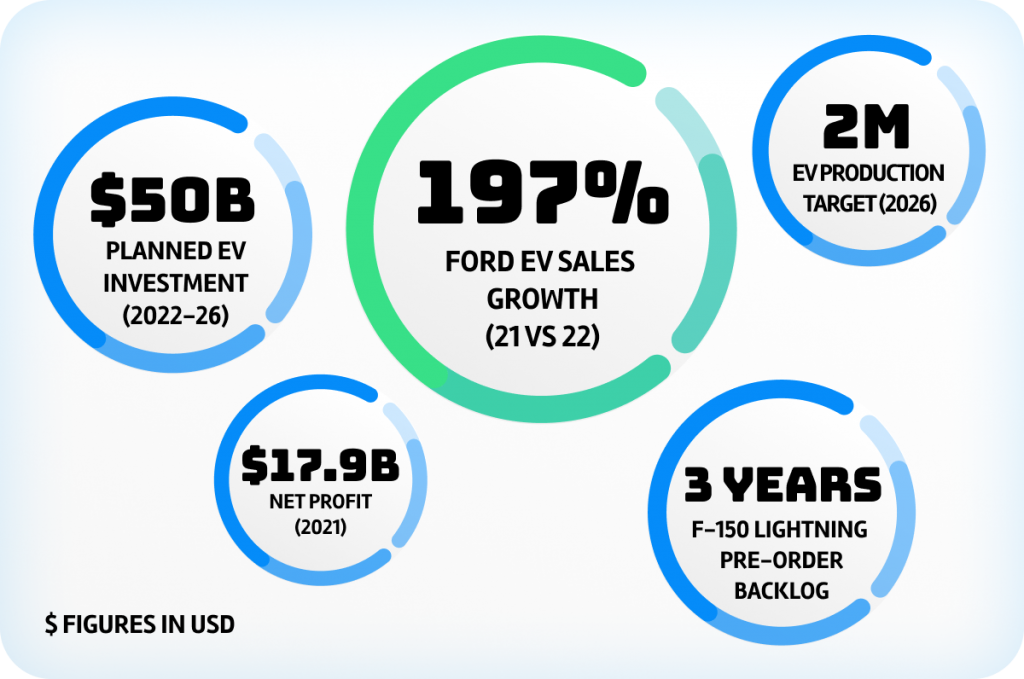 The opportunity of Ford
The auto company sold almost 4 million cars last year, raking in US$136 billion in revenue and turning a near US$18 billion profit. That's in a car market that is still growing despite the pandemic with global sales approaching 70 million a year.
Analysts expect electric vehicles (EVs) to make up most new growth in the auto market, a fact that isn't lost on Ford. Its F-150 Lightning electric pickup attracted more than 200,000 preorders.
The demand has seen it unveil a US$50 billion plan to run a separate EV division that will be responsible for producing 2 million vehicles – or one in three Fords – by 2026. 
The electric vehicle arm, called Model E, will be separated from its existing operations, referred to as Ford Blue. But both will remain housed under the Ford Motor Company and a single stock, in a bid to maintain economies of scale and balance profit with innovation. 
"Model E will nurture the talent and the culture and the intensity of a high-tech start up. Blue will be a profit and cash engine for the entire enterprise," CEO Jim Farley said.
The automaker is investing a further US$2 billion to make sure it can churn out 150,000 of the electric F-150 every year. A further US$1.5 billion is going towards building a new electric commercial vehicle.
It's a smart investment. After all, this is the battleground on which automakers will fight in the coming decades. It boils down to this: are traditional automakers able to catch up and surpass EV upstarts in coming years and of those is Ford the best positioned to do so?
The lineup of Ford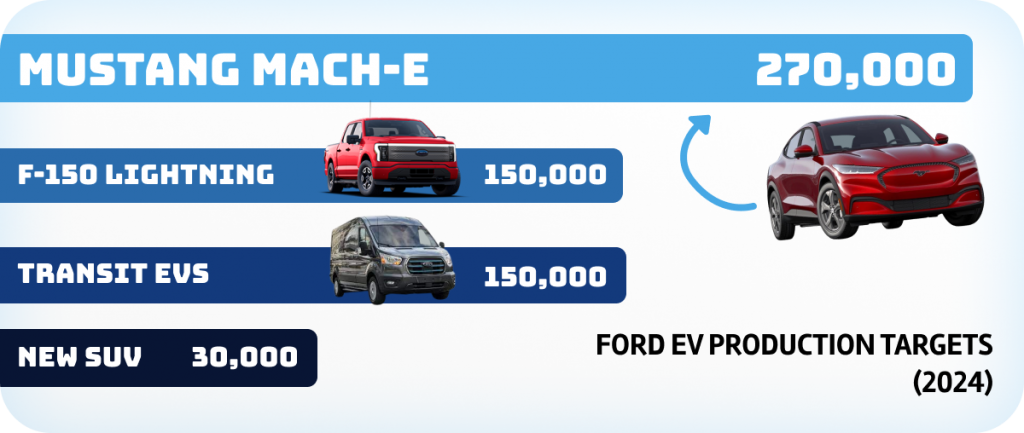 The challenge
Like the rest of the market, Ford's production has been hamstrung by a combination of supply chain issues and a long-running chip shortage. While it has managed to triple EV sales this year, it has a long way to go before it begins hitting the ambitious targets it has set itself.
For example, between January and October Ford has managed to sell fewer than 42,000 electric vehicles. By the end of 2023, it says it will be able to produce 600,000. Right now that is looking like a Herculean task to increase production by around 10x in a little over 12 months. 
From there, it has promised to produce 2 million electric sales in 2026.
These are clearly bold targets but they're also necessary if Ford is to genuinely compete with rivals. But make no mistake, it's not just Tesla that Ford will bump up against. General Motors (GM), Volkswagen, Stellantis and Hyundai are just a few legacy names that are making in-roads into the market.
To catch up and pass these rivals, Ford will also need to produce the kinds of cars that the market wants. So far it's had solid success with the F-150 but it will need to replicate that again and again to win over different market segments. 
Just as importantly, it will have to be able to ratchet up its production line once more to be able to meet demand where others can't. 
The future of Ford
It won't be a smooth drive. The task of taking a 120-year-old auto giant and overhauling its entire strategy is understandably tough. From retrofitting factories and retraining workers to designing entire new vehicles and transforming the Ford brand, it's an enormous and expensive task.
But encouragingly, it's a task that the CEO looks fully committed to. If Farley can pull it off, and nail this once in a century transition, Ford could enter another growth phase – a rare thing for a US$50 billion company. 
Trade Ford (F) for $0 brokerage (other fees may apply) on Superhero or read more Deep Dives here
Make knowledge your superpower and up your skills and know-how with our news, educational tools and resources.